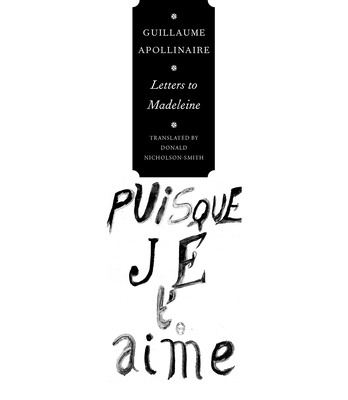 $30.25
Out of Stock Indefinitely
Description
---
When Guillaume Apollinaire was sent to the trenches during World War I, he had already published his groundbreaking book of poems, Alcools, inspiring artists of the budding Surrealist movement and making a foundational mark on twentieth-century literature. The letters he sent to his fiancée Madeleine Pagès while fighting on the front in Champagne offer an unprecedented look into the life and mind of this literary great. Ranging from memories of his childhood in Rome with his mother (a Polish noblewoman) to his reflections on literary giants like Racine and Tolstoy, the letters also chronicle his daily life as a soldier in the brutal Great War. Letters to Madeleine is a moving portrait of a poet facing one of humanity's starkest realities, and it will be of interest not only to fans of Apollinaire but to those interested in personal accounts of the First World War as well.
 
About the Author
---
Donald Nicholson-Smith
is an English-born translator who lives in New York City.
Wilhelm Apollinaris de Kostrowitzki, known by the pseudonym Guillaume Apollinaire (1880–1918), was among the foremost poets of the early twentieth century. Apollinaire's works include The Decaying Enchanter, The Bestiary, The Spirits, and Caligrams. He is credited with coining the term surrealism. Donald Nicholson-Smith has translated many works from French.
Praise For…
---
"This is an extraordinary discovery. These letters and poems, not fully known even in French until 2005, are truly fascinating, from the description of trench life to the measurements of the engagement ring. The translations are magnificent and the editorial presentation is highly informative. I was delighted."
— Mary Ann Caws, editor, Yale Anthology of Twentieth-Century French Poetry