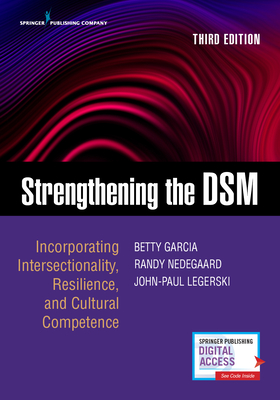 Description
---
Note to Readers: Publisher does not guarantee quality or access to any included digital components if book is purchased through a third-party seller.
This essential companion to the DSM uniquely integrates intersectionality and resilience that helps mental health practitioners assess clients from a strength-based perspective. The third edition expands the section on neurocognitive disorders to include traumatic brain injury, includes more information on assessment and treatment of common childhood disorders, and brings a new focus on the impact of today's culture wars and their impact on mental health professionals, policy, and clients Also new to the third edition is an emphasis on meta-analysis literature and a module on wellbeing discussing neuroscience and wellness concepts in relation to a strengths-based approach to diagnosis.
By demonstrating how to practically integrate diversity and intersectionality into the diagnostic process rather than limiting assessment to a purely problem-focused diagnostic label, this successful textbook strengthens the DSM for social workers and other mental health practitioners by promoting the inclusion of intersectionality, resiliency, culture, spirituality, and community into practice. It includes multiple case studies featuring complex, real life scenarios that offer a greater depth of learning by demonstrating how a strength-based assessment of the whole person can lead to more effective and successful treatment. Discussion questions promote critical thinking, key points in each chapter highlight and reinforce important concepts, and abundant web resources encourage additional study. The book also includes a robust instructor package. Purchase of the print edition includes access to Ebook format.
New to the Third Edition:
Adds traumatic brain injury to neurocognitive disorders sectionExpands information on treatment of common childhood disordersEmphasizes meta-analysis literatureDiscusses neuroscience and wellness concepts in relation to a strengths-based approach to diagnosisFocuses on wellness and health care delivery in the context of today's culture wars
Key Features:
Delivers a unique formulation integrating intersectionality and resilience to provide strengths-based assessment and treatmentDemonstrates the rationale for strengths-based DSM practiceIncludes real-life case scenarios for complex problem-solvingUses a standard format for each disorder for quick access to informationReviews key literature on disorders and evidence-based best practicesProvides classroom questions and activities to foster critical thinkingIdentifies professional and scholarly activities to promote increased effectiveness in diagnosis