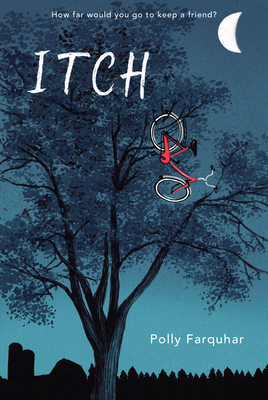 Description
---
When everything around you is going wrong, how far would you go to fit in?

A Junior Library Guild Selection

Isaac's sixth grade year gets off to a rough start. For one thing, a tornado tears the roof off the school cafeteria. His mother leaves on a two month business trip to China. And as always. . . . there's the itch. It comes out of nowhere. Idiopathic, which means no one knows what causes it. It starts small, but it spreads, and soon--it's everywhere. It's everything. It's why everyone calls him Itch--everyone except his best friend Sydney, the only one in all of Ohio who's always on his side, ever since he moved here.

At least Itch has his job at the pheasant farm, which is tough but cool. And most of the guys at school are okay to hang out with, even if they're crazy about college football, and Itch could care less. He's doing the best he can to get along--until everything goes wrong in the middle of a lunch swap. When Sydney collapses and an ambulance is called, Itch blames himself. And he's not the only one.

When you have no friends at all, wouldn't you do anything--even something you know you shouldn't--to get them back?

Drawing on her own experiences with idiopathic angioedema and food allergies, Polly Farquhar spins a tale of kids trying to balance the desire to be ordinary with the need to be authentic--allergies, itches, confusion and all.

For everyone who's ever felt out of place, this debut novel set in the Ohio heartland is a warm, funny, and sometimes heartbreaking look at middle school misfits and misadventures. Whether you root for the Buckeyes or have no clue who they are, you'll be drawn into Itch's world immediately. This engaging debut is perfect for fans of See You in the Cosmos and Fish in a Tree.
About the Author
---
Polly Farquhar earned her MFA in Creative Writing from Ohio State University and her short stories have been published in literary magazines such as Prairie Schooner and the Mid-American Review. She is also the recipient of two Individual Artists Grants from the Ohio Arts Council. She resides with her husband and young daughters in the Columbus, Ohio area. Like Itch, Polly has an idiopathic angioedema and her daughters have managed life-threatening food allergies.
Praise For…
---
★ "Isaac faces so many complications in sixth grade: bullying, loneliness, guilt, his mother's two-month business trip, tornadoes—and the itch. . . . A deft touch with unusual details keeps the narrative from getting bogged down in medical drama: Isaac has an after-school job at a pheasant farm, a preoccupation with the texture of sandwiches, and a lucky peanut shell. Lyrical, pensive prose unexpectedly isn't a harbinger of tragedy; these kids have regular lives, shaped by their grave health concerns but not overwhelmed by them. This meditative #ownvoices read refreshingly treats chronic illness as just one of life's myriad complexities."—Kirkus Reviews, Starred Review
 
★ "A heartwarming story that encompasses serious issues such as bullying, chronic illness, and peer pressure while navigating the awkward years of middle school."—School Library Journal, Starred Review

"[Polly Farquhar] artfully conveys the familiar milieu of the 6th grade social order and the difficulties Isaac has in navigating it. The desire to fit in is a theme that will resonate with readers of any age. Isaac's endearing personality, coupled with Farquar's strong pacing and distinctive spin on a familiar narrative, will leave readers eager for more books from this debut author."—BookPage

"the thoughtful pace of the story and the strong characterization will appeal to readers"—School Library Connection