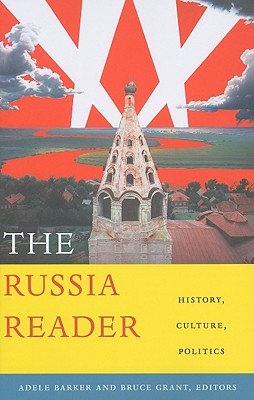 $44.48

NOT IN STOCK - Usually arrives in 7 - 14 business days
Description
---
Letters recording the reactions of ordinary Russians to the Revolution as events unfolded in 1917, an account of the day-to-day scramble to make a living after the end of the Soviet Union, and excerpts from a sixteenth-century manual instructing elite Muscovites on proper household management-
The Russia Reader
brings these and many other selections together in this introduction to the history, culture, and politics of the world's largest country, from the earliest written accounts of the Russian people to today. Conveying the texture of everyday life alongside experiences of epic historical events, the book is filled with the voices of men and women, rulers and revolutionaries, peasants, soldiers, literary figures, migr's, journalists, and scholars. Most of the selections are by Russians, and thirty are translated into English for the first time.
Illustrated with maps, paintings, photographs, posters, and cartoons, The Russia Reader incorporates song lyrics, jokes, anecdotes, and folktales, as well as poems, essays, and fiction by writers including Akhmatova, Dostoyevsky, Pushkin, and Tolstoi. Transcripts from the show trials of major Party figures and an account of how staff at the Lenin Library in Moscow were instructed to interact with foreigners are among the many selections based on personal memoirs and archival materials only recently made available to the public. From a tenth-century emissary's description of his encounters in Kyivan Rus', to a scientist's recollections of her life in a new research city built from scratch in Siberia during the 1950s, to a novelist's depiction of the decadence of the "New Russians" in the 2000s, The Russia Reader is an extraordinary introduction to a vast and varied country.
About the Author
---
Adele Barker is Professor of Russian and Slavic Studies at the University of Arizona. She is the editor of Consuming Russia: Popular Culture, Sex, and Society since Gorbachev, also published by Duke University Press; co-editor of The History of Women's Writing in Russia; and author of Not Quite Paradise: An American Sojourn in Sri Lanka.Bruce Grant is Associate Professor of Anthropology at New York University. He is the author of The Captive and the Gift: Cultural Histories of Sovereignty in Russia and the Caucasus and In the Soviet House of Culture: A Century of Perestroikas.