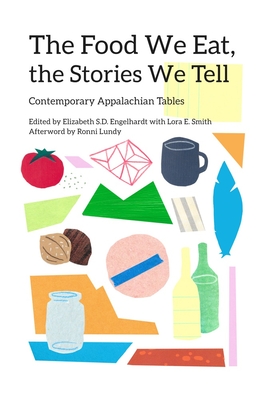 Description
---
Blue Ridge tacos, kimchi with soup beans and cornbread, family stories hiding in cookbook marginalia, African American mountain gardens—this wide-ranging anthology considers all these and more. Diverse contributors show us that contemporary Appalachian tables and the stories they hold offer new ways into understanding past, present, and future American food practices. The poets, scholars, fiction writers, journalists, and food professionals in these pages show us that what we eat gives a beautifully full picture of Appalachia, where it's been, and where it's going.
Contributors: Courtney Balestier, Jessie Blackburn, Karida L. Brown, Danille Elise Christensen, Annette Saunooke Clapsaddle, Michael Croley, Elizabeth S. D. Engelhardt, Robert Gipe, Suronda Gonzalez, Emily Hilliard, Rebecca Gayle Howell, Abigail Huggins, Erica Abrams Locklear, Ronni Lundy, George Ella Lyon, Jeff Mann, Daniel S. Margolies, William Schumann, Lora E. Smith, Emily Wallace, Crystal Wilkinson
About the Author
---
Elizabeth S. D. Engelhardt is John Shelton Reed Distinguished Professor of Southern Studies in the department of American studies at the University of North Carolina, Chapel Hill. Her family roots in western North Carolina extend back to the 1700s. Among her publications are A Mess of Greens: Southern Gender and Southern Food, The Tangled Roots of Feminism, Environmentalism, and Appalachian Literature, and The Larder: Food Studies Methods from the American South (edited with John T. Edge and Ted Ownby).
Lora E. Smith directs the Appalachian Impact Fund, a social impact investment fund focused on economic transition and opportunity in Eastern Kentucky. Smith is a founding member of the Appalachian Food Summit and a writer whose work has appeared in Gravy, the New York Times, PUNCH, and NPR's The Salt. In 2015, Lora accepted the John Egerton Prize from the Southern Foodways Alliance for her work with the Appalachian Food Summit and supporting local agriculture movements in Central Appalachia.
Praise For…
---
"Nothing else besides food nourishes us as profoundly as stories. Here we have a celebration of both, presented in an original, beautiful, and delicious manner. This book fairly bursts with a bounty of words—and wonderful illustrations—that manage to articulate just why food is so important in the way it connects and sustains us. I didn't realize how much Appalachian Literature needed a book like this until I sat down and devoured the whole thing."—Silas House, author of Southernmost

"Appalachian food is more than beans and corn bread, and this anthology explores its depth…. There are several takes on the food of immigrants, from Korea, Mexico, Spain, and Switzerland…. In all, (The Food We Eat, the Stories We Tell) contains a diversity of voices, styles, and cuisines that will be a pleasant surprise to those unfamiliar with the region."—Booklist

"Foodways have become such a fad, that it is tempting to respond to a new book on the subject with a ho-hum. NO! Not this book. It builds on the foundation that previous books have provided. It expands upon their reach. (The Food We Eat, the Stories We Tell) features writers who are more diverse and well-versed, scholars who are more accomplished, story-tellers who are more proficient, and poets who are more gifted."—Appalachian Mountain Books

"Everything we have been handed down, from cookbook to rosette wand, everything we receive, from egg roll to taco, everything we jones for, from red hot hotdogs to candies, becomes a piece of our history, a thread in the story leading to more story. Sitting at the Appalachian table we can taste the proof of a strong, lasting, surprisingly diverse, and infinitely textured history."—From the afterword by Ronni Lundy

"Engelhardt and Smith bring together a diverse group of writers who deftly use foodways to tackle a number of important themes, from identity and power to placemaking and the meaning of 'Appalachia.' Working against lingering but misleading and politicized regional signifiers, this riveting and readable book offers a fresh perspective on Appalachia, using foodways as a lens."—Jessica Wilkerson, author of To Live Here, You Have to Fight: How Women Led Appalachian Movements for Social Justice