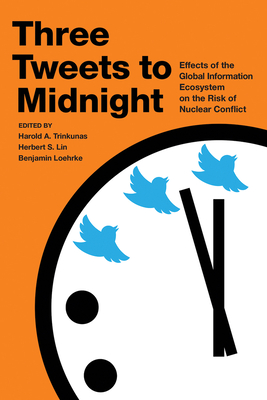 $18.95

NOT IN STOCK - Usually arrives in 7 - 14 business days
Description
---
Disinformation and misinformation have always been part of conflict. But as the essays in this volume outline, the rise of social media and the new global information ecosystem have created conditions for the spread of propaganda like never before—with potentially disastrous results.
In our "post-truth" era of bots, trolls, and intemperate presidential tweets, popular social platforms like Twitter and Facebook provide a growing medium for manipulation of information directed to individuals, institutions, and global leaders. A new type of warfare is being fought online each day, often in 280 characters or fewer. Targeted influence campaigns have been waged in at least forty-eight countries so far. We've entered an age where stability during an international crisis can be deliberately manipulated at greater speed, on a larger scale, and at a lower cost than at any previous time in history.
This volume examines the current reality from a variety of angles, considering how digital misinformation might affect the likelihood of international conflict and how it might influence the perceptions and actions of leaders and their publics before and during a crisis. It sounds the alarm about how social media increases information overload and promotes "fast thinking," with potentially catastrophic results for nuclear powers.
About the Author
---
Harold Trinkunas is the deputy director of and a senior research scholar at the Center for International Security and Cooperation at the Freeman Spogli Institute for International Studies at Stanford University.
Herbert S. Lin is a senior research scholar for cyberpolicy and security at the Center for International Security and Cooperation and the Hank J. Holland Fellow in Cyber Policy and Security at the Hoover Institution at Stanford University.
Benjamin Loehrke is the program officer for nuclear policy at the Stanley Center for Peace and Security.
Praise For…
---
"A gripping story of how social media can result in a nuclear catastrophe, either through a blunder or through the actions of a malignant provocateur. No issue could be timelier or more important, considering the profligate use of tweets today by the president and other government officials, and the need for deliberation in dealing with national security crises." —William J. Perry, 19th US Secretary of Defense  "Highlights new and rising dangers that social media pose to managing any future great power crisis, and in the extreme to avoiding nuclear war. It is a must-read for policy makers, legislators, foreign policy experts, nuclear strategists, and indeed for any serious student of national security." —James N. Miller, former US Under Secretary of Defense for Policy  "The next nuclear crisis will be tweeted. How decision makers cope with the increasing speed and volume of information during that crisis will weigh heavily on whether the world can avoid nuclear catastrophe. The authors in this volume brilliantly help us understand—and get ahead of—the challenges from today's information ecosystem." —Keith Porter, President, the Stanley Center for Peace and Security  "We know that the new media environment has an impact on nuclear crises, but how and when does it matter? This pathbreaking volume assembles an impressive interdisciplinary lineup to explore these questions with new frameworks, new evidence, and new arguments. An important opening contribution to what is clearly a phenomenon that is here to stay." —Vipin Narang, Associate Professor of Political Science at MIT and a member of MIT's Security Studies Program