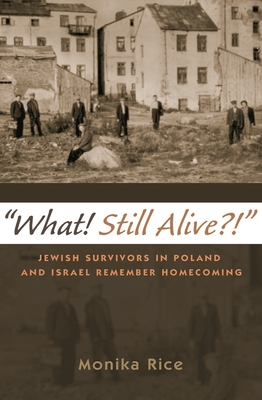 Description
---
What Still Alive? offers a powerful and deeply affecting examination of the complex memories of Jewish survivors returning to their homes in Poland after the Holocaust. These survivors left unparalleled testimonies of their first impressions with the Jewish historical commissions from 1944 to 1950.
As many survivors found they were no longer welcome by their Polish neighbors, they chose to settle in the new state of Israel. Again, these surviving Jews left testimonies describing their postwar returns. In
What Still Alive? ,
Rice investigates the transformation of survivors' memories from the first account after their initial return to Poland and later accounts, recorded at Yad Vashem in Jerusalem between 1955 and 1970. Through close readings of these firsthand narratives, Rice traces the ways in which the passage of time and a changing geopolitical context influenced the survivors' memories.
About the Author
---
Monika Rice teaches courses on the Holocaust, Jewish-Christian relations, and women's spirituality at Seton Hall University, as well as Gratz College. She has received a number of prestigious fellowships and grants, and published articles, book chapters, and reviews in edited volumes and academic journals. Her research focuses on the inner lives of Polish Jews.