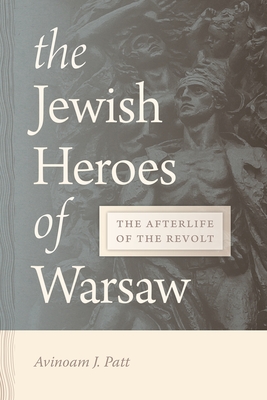 Description
---
The Jewish Heroes of Warsaw: The Afterlife of the Revolt by Avinoam J. Patt analyzes how the heroic saga of the Warsaw Ghetto Uprising was mythologized in a way that captured the attention of Jews around the world, allowing them to imagine what it might have been like to be there, engaged in the struggle against the Nazi oppressor. The timing of the uprising, coinciding with the transition to memorialization and mourning, solidified the event as a date to remember both the heroes and the martyrs of Warsaw, and of European Jewry more broadly.
The Jewish Heroes of Warsaw includes nine chapters. Chapter 1 includes a brief history of Warsaw from 1939 to 1943, including the creation of the ghetto and the development of the Jewish underground. Chapter 2 examines how the uprising was reported, interpreted, and commemorated in the first year after the revolt. Chapter 3 concerns the desire for first-person accounts of the fighters. Chapter 4 examines the ways the uprising was seized upon by Jewish communities around the world as evidence that Jews had joined the struggle against fascism and utilized as a prism for memorializing the destruction of European Jewry. Chapter 5 analyzes how memory of the uprising was mobilized by the Zionist movement, even as it debated how to best incorporate the doomed struggle of Warsaw's Jews into the Zionist narrative.Chapter 6 explores the aftermath of the war as survivors struggled to come to terms with the devastation around them. Chapter 7 studies how the testimonies of three surviving ghetto fighters present a fascinating case to examine the interaction between memory, testimony, politics, and history. Chapter 8 analyzes literary and artistic works, including Jacob Pat's Ash un Fayer, Marie Syrkin, Blessed is the Match, and Natan Rapoport's Monument to the Ghetto Fighters, among others.
As this book demonstrates, the revolt itself, while described as a "revolution in Jewish history," did little to change the existing modes for Jewish understanding of events. Students and scholars of modern Jewish history, Holocaust studies, and European studies will find great value in this detail-oriented study.
About the Author
---
Avinoam J. Patt is the Doris and Simon Konover Professor of Judaic Studies and director of the Center for Judaic Studies and Contemporary Jewish Life at the University of Connecticut. He is the author of Finding Home and Homeland: Jewish Youth and Zionism in the Aftermath of the Holocaust (Wayne State University Press, 2009) and co-editor of a new volume Laughter After: Humor and the Holocaust (Wayne State University Press, 2020).