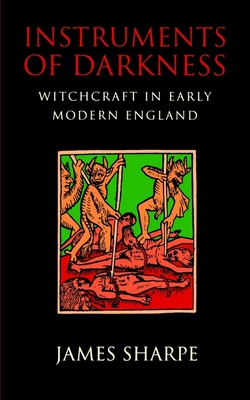 $28.69

NOT IN STOCK - Usually arrives in 7 - 14 business days
Description
---
They flew through the air, consorted with animals, and made pacts with the devil. Witches were as unquestioned as alchemy or astrology in medieval England; yet it wasn't until the midsixteenth century that laws were passed against them. Now a leading historian of crime and society in early modern England offers the first scholarly overview of witchcraft in that country in over eighty years, examining how tensions between church, state, and society produced widespread distrust among fearful people.
Instruments of Darkness
takes readers back to a time when witchcraft was accepted as reality at all levels of society. James Sharpe draws on legal records and other sources to reveal the interplay between witchcraft beliefs in different partts in the social hierarchy. Along the way, he offers disturbing accounts of witch-hunts, such as the East Anglian trials of 1645-47 that sent more than 100 people to the gallows. He tells how poor, elderly women were most often accused of witchcraft and challenges feminist claims that witch-hunts represented male persecution by showing that many accusers were themselves women. Prosecution of witches gradually declined with increasing skepticism among jurists, new religious attitudes, and scientific advances that explained away magic. But for two hundred years, thousands participated in one of history's most notorious persecutions.
Instruments of Darkness
is a fascinating case study that deepens our understanding of this age-old cultural phenomenon and sheds new light on one society in which it occurred.
About the Author
---
James Sharpe is senior lecturer in history at the University of York. He is the author of Crime in Early Modern England 1550-1750 and Early Modern England: A Social History 1550--1750.