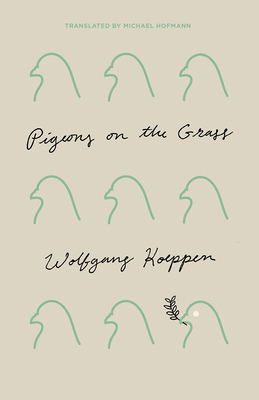 Description
---
Wolfgang Koeppen's postwar masterpiece in a luminous new translation by the poet Michael Hofmann
Pigeons on the Grass is told over a single day in Munich in 1948. The first new cinemas and insurance offices are opening atop the ruins, Korea and Persia are keeping the world in panic, planes rumble in the sky (but no one looks up), newspaper headlines announce war over oil and atomic bomb tests. Odysseus Cotton, a black man, alights at the station and hires a porter; Frau Behrend disowns her daughter; with their interracial love affair, Carla Behrend and Washington Price scandalize their neighbors—who still expect gifts of chocolate and coffee; a boy hustles to sell a stray dog; Mr. Edwin, a visiting poet, prepares for a reading; Philipp gives himself up to despair; Emilia sells the last of her jewelry; Alexander stars as the Archduke in a new German Super-production; and Susanne seeks out a night to remember. In Michael Hofmann's words, "in their sum, they are the totality of existence."
Koeppen spares no one and sees all in this penetrating and intense novel that surveys those who remain, and those who have just arrived, in a damaged society. As inventive as Joyce and as compulsively readable as Dickens, Pigeons on the Grass is a great lost classic.
About the Author
---
Wolfgang Koeppen (1906-1996) was born in Greifswald and died in Munich. He worked as a commis chef, a dramaturge, and an editor. In 1951, 1953 and 1954 three novels were published to high acclaim for accurately capturing the atmosphere of the republic under Konrad Adenauer: Pigeons on the Grass, The Hothouse, and Death In Rome.

The poet Michael Hofmann has won numerous prizes for his German translations.
Praise For…
---
There are rare writers who inform and enthrall, even terrify. The gifted German enigma Wolfgang Koeppen (1906-1990) is one such witness: candid and strange, allusive, unsettling. Time and again Koeppen stage-manages an unforgettable scene.
— Irish Times

A kaleidoscopic narrative that follows a disparate cast of characters whose lives accidentally intersect during a single day in Munich, Germany, in 1948. Now available in an inspired new translation, this portrait of despair and endurance amid postwar ruin is nothing less than a miniature masterpiece.
— Kirkus (STARRED)

Scathing, disillusioned novel ridiculing the notion of a new start and a clean slate for West Germany. Pigeons on the Grass is set in Munich on a single day and its 105 short fragments reveal the failure of more than thirty characters to face up to reality.

— London Review of Books

Almost eerily contemporary in its concerns, and remarkable as a sidelong, searing appraisal of the legacy of the Nazi years, it is a recovered masterpiece.
— Publishers Weekly (starred review)

Michael Hofmann has illuminated a dark corner of recent European history... a forgotten masterpiece.
— The Evening Standard

In a many-toned language Koeppen not only depicts a cacophonous world but peoples that world with individuals whose lives barely overlap. The result documents a uniquely German situation; it also, with its echoes of James Joyce and John Dos Passos, reconnects the German novel at a surprisingly early date to modernist fiction.
— The Independent

Koeppen's voice—cold, defiant and relentless in its fury at the deadly amnesia he saw emerge from Germany's ruins after World War II—neither transforms nor imbues the world around him, but rather indicts it.
— Peter Filkins - The New York Times

Koeppen's prose, as deftly channelled by Hofmann (who acknowledges the 'perfectly good' version of 1988 by David Ward), seems to expand and contract to fill the space offered by each consciousness.
— Dustin Illingworth - TLS

Germany's greatest living writer.
— Gunter Grass

Those who haven't read this novel cannot claim to know German literature after 1945.
— Marcel Reich-Ranicki

Among the earliest, grandest, and most poetically satisfying reckonings in fiction with the postwar state of the world.
— Michael Hofmann

Scathingly beautiful—lyrically inescapable.
— Nadine Gordimer

Wolfgang Koeppen, a remorselessly brilliant German writer of the 20th century, has long remained scandalously obscure in the Anglophone world. His reputation can finally begin to flower with Michael Hofmann's fine translation of Pigeons on the Grass, an acute and disquietingly contemporary novel about a society disfigured by racism and historical amnesia.

— Pankaj Mishra