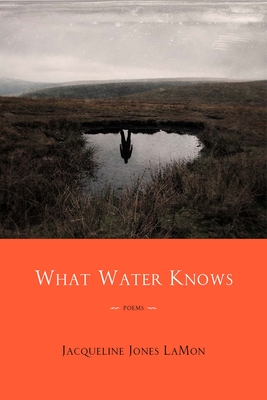 $17.00

NOT IN STOCK - Usually arrives in 7 - 14 business days
Description
---
Jacqueline Jones LaMon delivers a stunning third collection that shows the elements of life that both unite us and create our greatest distances. What Water Knows transports the reader from drought to drowning, from the transatlantic Middle Passage to the breaking of water, from water wielded as a weapon to used as a reward. LaMon offers a labyrinth to understanding how we are all connected—through vibrant, searing images depicting the core of racism, betrayal, addiction, loss, climate change, and the ever-changing world in which we live.
 
LaMon's skillful embodiment of character and her signature use of personae invite the reader to experience the unfathomable. Prepare to go over Niagara Falls in a barrel. Prepare to feel the force of a fire hose on your bare legs. Prepare to experience what happens when greed gets in the way of reason. What Water Knows is a canonical poetic achievement that will remind us of what it means to be human in a world that often forgets.
About the Author
---
JACQUELINE JONES LAMON is the author of two award‑winning collections of poetry, Last Seen and Gravity, U.S.A., as well as a novel, In the Arms of One Who Loves Me. Vice President of Diversity, Equity, and Inclusion at Adelphi University, she has served as president of the Cave Canem Foundation. 
Praise For…
---
"This is an ambitious, stirring collection." —Publishers Weekly 

"Such a vibrant and beautiful book. I truly read it with my heart in my throat. LaMon speaks a language at once as familiar and foreign as love itself—with so much love. There is such a deep quietude to this book. She takes us beneath the covers of what it means to be a woman, to be a mother, to be Black, to be trapped—and finally, what it means to be free. I cannot wait for this book to be in the world. Everything I needed right now." —Jacqueline Woodson, National Book Award winner and the author of Red at the Bone: A Novel

"With intimacy and clarity, What Water Knows offers us transcendent, lyric language that explores womanhood, race, history, justice, love, and the politics of our identities contained by the memory of water, released by it, or both. Fluid in her craft, LaMon's powers are fully claimed here. In a poem about womanhood, she writes 'We were our own fine line, / never crossed.' Elsewhere LaMon asks a timeless question for us all: 'What is it you need when you're fleeing your home?' The poet's intuition and intelligence rise and crest without ending, and in remarkable turns of self-knowledge, strength, and grace, the intimations of water are as elusive and marvelous as the poet's desire. Indispensable and elemental, What Water Knows achieves a truth that does not spare our most primal needs. Aware of the ordinary and celestial energy of language itself, and what it may mean to choose to speak at all in any form, the poet writes, 'Some would say there are no oceans between us, only / land. I would say it all depends on the direction we choose to face.'" —Rachel Eliza Griffiths, author of Seeing the Body: Poems

"Jacqueline Jones LaMon accesses the wisdom of water, but its grace and ferocity, too. These poems are a reminder of the complications of our existence. We require love just as we require water. And as water nourishes, it can also drown. As can love. LaMon's words and images fall in such exquisite order—sometimes flowing with the current of form, sometimes with the predictable unpredictability of a high tide—these poems hurt and heal. To experience these verses is to drink deeply from a tin cup pulled from a bucket of rain water, or a crystal goblet filled from a filtered pitcher, or from your own lips drawing a salty swallow from the ocean." —Tayari Jones, author of An American Marriage: A Novel