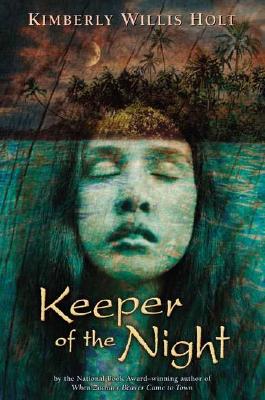 $18.99
Currently Out of Stock - No ETA
Description
---
A powerful new novel from the award-winning author of "When Zachary Beaver Came to Town."
Isabel's mother died peacefully. At least that's what Isabel likes to think since no one will talk about the truth. But the truth has a way of revealing itself at night. TaTa sleeps curled up on the floor right where Mama's body was found. Olivia wets her bed and wakes repeatedly from nightmares, and Frank starts carving his anger into his bedroom wall. It's up to Isabel to help her family get beyond the pain and loss--to be the keeper of the night. But who will be there for Isabel and help her through to the other side?
Set on the lush island of Guam, Kimberly Willis Holt has written a painfully beautiful story about a young woman's struggle to protect her family after suicide hits home.
About the Author
---
Kimberly Willis Holt is the author of the many award-winning novels for young adults and children, including "The Water Seeker," "My Louisiana Sky," and "When Zachary Beaver Came to Town," winner of a National Book Award for Young People's Literature. She is also the author of the bestselling Piper Reed series of chapter books, and picture books including "Waiting for Gregory" and "Skinny Brown Dog." Holt was born in Pensacola, Florida, and lived all over the U.S. and the world--from Paris to Norfolk to Guam to New Orleans. She long dreamed of being a writer, but first worked as a radio news director, marketed a water park, and was an interior decorator, among other jobs. She lives in West Texas with her family.
Praise For…
---
An ALA "2004 Best Book for Young Adults"
An ALA "2004 Notable Children's Book"
A "Kirkus 2003 Editor's Choice"
An Amazon.com "Editor's Pick" title
A Parents' Choice 2003 Gold Award Winner
A School Library Journal "Best Book"


"Evocative" --Publishers Weekly, starred

"Beautifully written" --School Library Journal, starred

"Stunningly beautiful" --Kirkus Reviews, starred

"[H]eart-rending. . . . Kimberly Willis Holt...has created an endearing, complicated narrator in Isabel; she manages to sound both lyrical and like the eighth grader she is." --New York Times Book Review

"Holt's plain, direct prose belies the deep pain the narrator feels as she tries to understand her mother's life and death." --Bookpage

"Beautifully written, this tale reaches into the heart of Guam and touches gold." --Seattle Times

"[E]xtended families, unhurried lives, the wisdom of elders, the individual quirks and eccentricities and the deep love holding up the surface of everyday life will all be familiar to readers of Holt's previous work." --Times Picayune