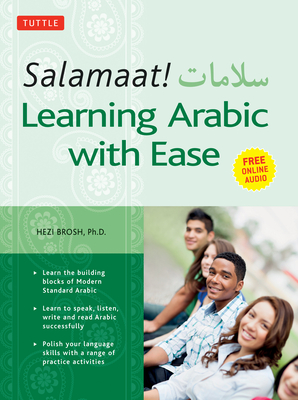 $29.99

NOT IN STOCK - Usually arrives in 7 - 14 business days
Description
---
Salamaat Learning Arabic with Ease is a new language learning book designed to open your world to the beautiful Arabic language. Salamaat means Greetings, I hope you are well and is usually the first word used in every situation in the Arabic-spreaking world.
The first step is to become comfortable with the Arabic alphabet and the sounds of the language. Author Dr. Hezi Brosh has developed a highly successful, simplified teaching method that has helped thousands of English speakers to speak, read, and write Arabic within a short period. His method teaches many basic building blocks that are proven to work well in promoting fluency. The most crucial goal of learning a language is to communicate effectively--learning the basic sentence structures and vocabulary that you need and will use on a daily basis.
Salamaat Learning Arabic with Ease
guides you in acquiring the critical grammar and phrases, so you can begin to use Arabic to carry out fundamental tasks from greetings to daily routines.
Here are some of the book's key features:
You learn Modern Standard Arabic, understood in all parts of the Arabic-speaking world today.
You learn to read and write the Arabic script efficiently thanks to a method designed specifically for native English speakers.
Particular attention is given to understanding Arabic culture and placing the language within its cultural context.
A fundamental communicative approach presents each new grammar feature with an emphasis on how it can help you communicate with others.
Exercises build listening and comprehension skills to help you absorb the primary sounds, meanings and sentence patterns of the language.
Free online audio with numerous recordings helps to build listening comprehension.
About the Author
---
Hezi Brosh, Ph.D., currently the Arabic Program Coordinator at the United States Naval Academy is an educator and researcher with decades of experience teaching Arabic. His innovative teaching materials on Arabic as a foreign language have benefited thousands of learners and teachers. He has worked in many educational institutions in the Middle East and North America, ranging from junior high school to university level. His specialization area is Second Language Acquisition, focusing on Arabic teaching and learning as a foreign language. He has published widely on Arabic pedagogy and significantly contributed to curriculum planning and development.