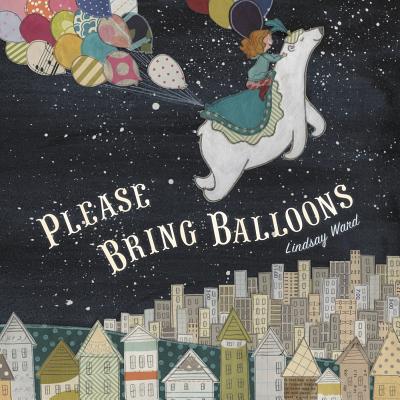 $19.79
Out of Stock Indefinitely
Description
---
Every day can be an adventure. Especially if you bring balloons.

Ever wondered what it would be like to ride a carousel right off its platform?  As Emma discovers, all it takes is a handful of balloons and a very kind polar bear to show you the way.  This soaring story of friendship, between a carousel bear and the little girl who noticed him, will take readers to the arctic and back—in time for bedtime, of course—and remind them anything is possible.  Even flying.
About the Author
---
Lindsay Ward is fascinated by the way the world looks from above and has always wanted to write a story with a little magic. Add to that the fact that her parents actually met painting carousel animals, and it's clear that Please Bring Balloons is a story she was meant to write. Born and raised in California, Lindsay received her BA from Syracuse University. She is now a cut-paper artist living and working in Peninsula, Ohio.
Praise For…
---
Now a Huffington Post Honorable Mention for Best Picture Book of 2013!

"A fantastic adventure." - The New York Times

"It's a gentle story of everyday magic, with artwork that should keep readers coming back." - Publishers Weekly

"With balloons and a carousel taking center stage, this nocturnal fantasy will provide a pleasurable lift for young audiences." - Kirkus Reviews

"Ward combines prints of maps and colorful paper to lend a whimsical and jaunty air to the pair's nighttime escapade." - School Library Journal

"Cut-paper collage illustrations, which include maps and algebraic equations, play against a starry night sky, creating a beautiful backdrop for a flight of fancy. Little kids, balloon and carousel lovers one and all, will enjoy this magical romp from the creator of When Blue Met Egg." - Booklist