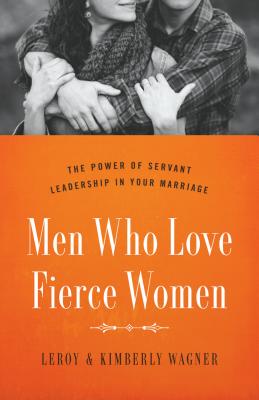 $14.99

NOT IN STOCK - Usually arrives in 7 - 14 business days
Description
---
"Five years into 'wedded bliss,' I confessed to Kim that I no longer loved her. We were stuck in a destructive relationship pattern we now refer to as the 'fierce woman/fearful man' cycle, and I had lost all hope for a peaceful marriage…" — LeRoy Wagner
What if I'm laid-back and my wife is… not?
How can I lead when I feel emasculated?
I'm not sure I love my wife anymore. What happened?
If you find yourself asking questions like these, LeRoy can relate. In Men Who Love Fierce Women, he is gut-honest about his failures and frustrations as a husband, the realizations that saved his marriage,* and the requirements God places on every husband, laid-back or not. With their insights combined, Kim and LeRoy equip men to rise up, handle conflict, love their wife, and lead their marriage, regardless of who has the stronger personality.
Includes reflection questions at the end of every chapter, plus an appendix for addressing conflict. 
*Kim and LeRoy's interview on Focus on the Family, in which they discuss their marriage and Kim's book Fierce Women, aired twice and was voted the #1 segment of 2015, prompting the publication of this book.
About the Author
---
LEROY WAGNER has served as a pastor and speaker for more than thirty years. His greatest desire is to see God's glory fill the earth and he believes that begins with training individuals to live out the gospel in their homes and through their daily life experiences. The supreme love of his life is Jesus Christ, then his wife, Kimberly, their children, and grandchildren.

KIMBERLY WAGNER is the author of Fierce Women: The Power of a Soft Warrior. Spreading God's glory is Kim's deepest passion. Her desire for women to connect with Christ is woven through everything she writes. You can read her daily blog at www.KimberlyWagner.org where she encourages women to be students of the Word. Kim is a frequent guest on the Revive our Hearts radio program, as well as a regular contributor to the True Woman blog. She is an author, a women's conference speaker, and a blogger. She is married to her favorite pastor, LeRoy Wagner, and they enjoy hanging out with their adult children and growing tribe of grandchildren!