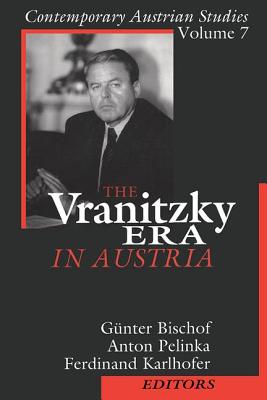 Other Books in Series
This is book number 7 in the Contemporary Austrian Studies series.
Description
---
Franz Vranitzky, the banker turned politician, was chancellor during the ten years (1986-96) when the world dramatically changed in the aftermath of the cold war. Among postwar chancellors, only Bruno Kreisky held office longer. The Austrian Social Democratic Party has been in power since 1970. Such longevity is unique in postwar European politics. The dominance of Social Democracy in particular is noteworthy when compared to the general decline of traditional leftist politics in Europe. The chapters in this volume try to assess Vranitzky's central role in recent Austrian and European history.
Richard Luther presents the general European political context in which Vranitzky operated. Eva Nowotny, Vranitzky's former principal foreign policy adviser and Austria's current ambassador to the United Kingdom, analyzes his struggle over joining the European Union as well as Austria's security dilemmas following the cold war. Fritz Plasser looks at the changing electoral behavior of Austrians and the ascendancy of new parties. Irene Etzerdorfer concentrates on the long hegemony of Austrian Social Democratic leadership by comparing Vranitzky's and Kreisky's leadership styles. Other contributors include Sonja Puntscher-Riekmann, Brigitte Unger, Peter Rosner, Alexander van der Bellen, and George Winkler. A forum on postwar Austrian memory of World War II from a comparative perspective, which continues the theme of previous volumes in this series, is also included. Jonathan Petropoulos demonstrates how Swiss middlemen were in the center of dealing with stolen Nazi art during and after the war, while Olive Rathkolb describes the shameful legacy of the Austrian government's procrastination in resolving the issue of Jewish heirless art. Peter Utgaard shows how in Austria's postwar high school textbooks the American bombing of Hiroshima often figured more prominently than the Holocaust. Review essays and book reviews complete the volume.
The Vranitzky Era in Austria
is a compelling work for political scientists, historians, and Austria studies scholars.
Gnter Bischof
is associate director of Center Austria and associate professor of history at the University of New Orleans, and former visiting professor at the University of Salzburg.
Anton Pelinka
is director of the Austrian Institute of Conflict Research in Vienna, professor of political science at the University of Innsbruck, and former visiting professor at Stanford University.
Ferdinand Karlhofer
is associate professor of political science at the University of Innsbruck and former visiting professor at the University of New Orleans.