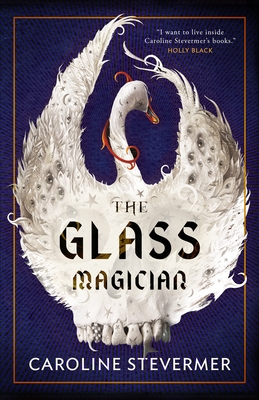 Description
---
Reminiscent of The Golem and the Jinni, Caroline Stevermer's The Glass Magician is a magical and romantic tale set in New York's Gilded Age.

A fledging magician discovers true magic…and a power that might destroy her.

New York 1905: The Vanderbilts. The Astors. The Morgans.

They are the cream of society—and they own the nation on the cusp of a new century.

Thalia Cutler doesn't come from money or have family connections. But she knows magic—stage magic. And she dazzles the audience with fantastical acts.

One night, a trick goes horribly awry. Thalia discovers a magic beyond her stage twirls and costumes, finding her world far more enchanted—and herself far more powerful—than she ever imagined.

To understand what she is, Thalia will have to face a New York more dangerous than any stage she's known… before the real monsters descend to feast.
About the Author
---
CAROLINE STEVERMER is a multiple-award-winning author, best known for her historical fantasy novels—particularly the Scholarly Magic series (A College of Magics, A Scholar of Magics, and When The King Comes Home), which Terri Windling said had "sly wit and sparkling prose that have earned her a cult following." Stevermer graduated from Bryn Mawr College with a degree in art history and currently lives in Minnesota.
Praise For…
---
Praise for The Glass Magician

"A delicious read—elegant, neat, sprightly, well-defined and likeable characters…I absolutely loved it."—Genevieve Cogman, author of The Invisible Library series

"Stevermer has re-imagined New York's gilded age to perfection…pure fantasy and fascinating, a prickly murder mystery, and a bevy of strong women, both young and old. I'm sure there will be a sequel. Well, I hope there will be a sequel. There had better be a sequel!"—Jane Yolen

"Sprightly and inventive!"—Elizabeth Bear

Praise for Caroline Stevermer

"I want to live inside Caroline Stevermer's books. Her characters are clever, courageous, and charming."—Holly Black, New York Times bestselling author

"Caroline Stevermer has a wonderfully light touch...a deft and witty interweaving of mystery and magic."—Jo Walton on A Scholar of Magics

"Full of wonders. By the end of the first paragraph, I suspected I was in good hands; by the end of the third page, I was sure of it."—Lois McMaster Bujold on A Scholar of Magics

"It's a romp! I read straight through, cheering for the plucky servant kids, loving the household magic, and terrified of the curse!"—Tamora Pierce on Magic Below Stairs

"Delightful."—The Washington Post on A College of Magics

"Stevermer is a worthy follower of Jane Austen for wit, of Dorothy Sayers for suspense and erudition."—Booklist on A Scholar of Magics

"Caroline Stevermer does here what she does best: evoking a sense of time and place in the city and the scenes of true magic made my hair stand on end." —Ellen Kushner