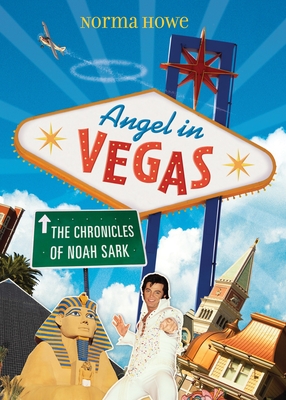 $18.69
Out of Stock Indefinitely
Description
---
Good heavens! A teen angel drops into Sin City in this wickedly funny YA novel from the author of the Blue Avenger trilogy.

Who is Noah Sark, really? And what is he doing in the men's room at Angelo's All-Day All-Nite Donut Emporium in Las Vegas? No use asking him; he doesn't know, either.

Only Norma Howe, author of the beloved Blue Avenger books and a gleeful practitioner of comedic satire, could blend in a devilishly funny mix one (or maybe two) budding teenage romances, a psychic fair, a dead frog, a headful of cascading blond ringlets, glorious Las Vegas in all its glitz and sparkle — including Elvis and his hound dog, erupting volcanoes, and a Seeing-Eye-dog video poker player — with the dramatic back story of Princess Di in Paris, to portray an unlikely teen angel on a desperate mission to save a certain unknown girl from a certain unknown disaster. But, reader, never fear. All will be revealed in good time, so long as you resist, as Noah himself says, "the siren call of logic."
About the Author
---
Norma Howe is the author of the acclaimed Blue Avenger trilogy and numerous other books for young readers. Of The Angel in Las Vegas, she says, "I first got the idea for this book shortly after the tragic death of Princess Di, when an overwrought woman in a grocery store line cried out, 'Where, oh where, was her guardian angel?' Where, indeed! I thought. And I thought and I thought, and after almost ten years of thought, the story finally surfaced." Norma Howe lives in California.