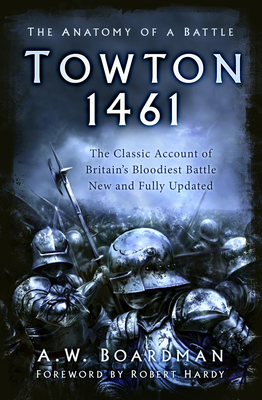 $22.95

Coming Soon - Available for Pre-Order Now
Description
---
The definitive account of this medieval battle

Palm Sunday 1461 was the date of a ruthless and bitterly contested battle, fought by two massive medieval armies on an exposed Yorkshire plateau for the prize of the crown of England. This singular engagement of the Wars of the Roses has acquired the auspicious title of the longest, biggest and bloodiest battle ever fought on British soil. But what drove the contending armies of York and Lancaster to fight at Towton and what is the truth behind the legends about this terrible encounter, where contemporaries record that the rivers ran red with blood? Andrew Boardman answers these questions and many more in the new updated edition of his classic account of Towton which provides a fascinating insight into the reality of the battlefield.
About the Author
---
Andrew Boardman is a historian whose published works include The Medieval Soldier in the Wars of the Roses and The First Battle of St Albans. He has been a consultant on many TV documentary series for the BBC, Channel 4, Sky One and Yesterday Channel. He lives in Yorkshire.