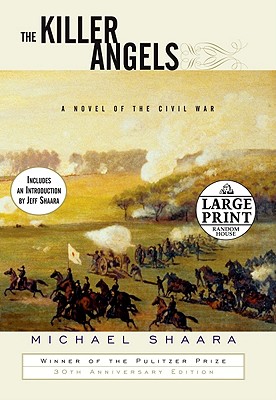 $26.40
Currently Out of Stock - No ETA
Description
---
A reissue of a Pulitzer prize-winning classic, and now the major motion picture GETTYSBURG. As a result of these acclamations, this book is considered one of the greatest novels written on the Civil War.


From the Hardcover edition.
About the Author
---
Michael Shaara was born in Jersey City in 1929 and graduated from Rutgers University in 1951. His early science fiction short stories were published in Galaxy magazine in 1952. He later began writing other works of fiction and published more than seventy short stories in many magazines, including The Saturday Evening Post, Cosmopolitan, and Redbook. His first novel, The Broken Place, was published in 1968. But it was a simple family vacation to Gettysburg, Pennsylvania, in 1966 that gave him the inspiration for his greatest achievement, the Pulitzer Prize-winning novel The Killer Angels, published in 1974. Michael Shaara went on to write two more novels, The Noah Conspiracy and For Love of the Game, which was published posthumously after his death in 1988.


From the Hardcover edition.
Praise For…
---
"The best and most realistic historical novel about war I have ever read."
–GENERAL H. NORMAN SCHWARZKOPF

"My favorite historical novel . . . A superb re-creation of the Battle of Gettysburg, but its real importance is its insight into what the war was about, and what it meant."
–JAMES M. MCPHERSON
Author of Battle Cry of Freedom

"Remarkable . . . A book that changed my life . . . I had never visited Gettysburg, knew almost nothing about that battle before I read the book, but here it all came alive."
–KEN BURNS
Filmmaker, The Civil War

"Shaara carries [the reader] swiftly and dramatically to a climax as exciting as if it were being heard for the first time."
–The Seattle Times



From the Hardcover edition.