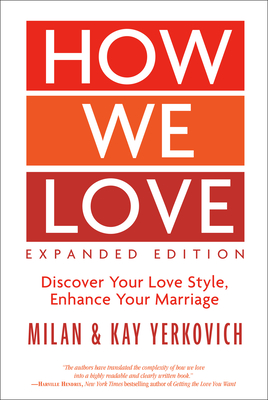 Description
---
Did you know the last fight you had with your spouse began long before you even met?
 
Are you tired of falling into frustrating relational patterns in your marriage? Do you and your spouse fight about the same things again and again?
 
Relationship experts Milan and Kay Yerkovich explain why the ways you and your spouse relate to each other go back to before you even met. Drawing on the powerful tool of attachment theory, Milan and Kay explore how your childhood created an "intimacy imprint" that affects your marriage today. Their stories and practical ideas help you:

* identify your personal love style
* understand how your early life impacts you and your spouse
* break free from painful patterns that keep you stuck
* find healing for the source of conflict, not just the symptoms
* create the close, nourishing relationship you dream about

Revised throughout with all-new material and additional visual diagrams, this expanded edition of How We Love will bring vibrant life to your marriage. Are you ready for a new journey of love?
 
Note: The revised and expanded How We Love Workbook is available separately.
About the Author
---
Milan and Kay Yerkovich are marriage counselors with decades of experience. Milan is a cohost of New Life Live! with Stephen Arterburn. He holds a master's degree in biblical studies and is the founder of the counseling center Relationship 180. Kay has a master's degree in counseling and focuses on helping couples create healthy attachment. Together Milan and Kay have developed a method of couples therapy called  Attachment Core Pattern Therapy. The Yerkoviches are the parents of four adult children. They make their home in southern California.
Praise For…
---
Praise for How We Love

"How We Love has the capacity to change not only your marriage but every relationship that's important in your life."
–Josh McDowell, Christian apologist, evangelist, and author of more than seventy-five books including More Than a Carpenter and Evidence that Demands a Verdict

"The authors have translated the complexity of how we love into a highly readable and clearly written book. Couples will easily be able to identify their love styles and how to transform them into genuine love. I recommend it to all couples."
–Harville Hendrix, PHD, therapist and educator with over twenty-five years of experience, cofounder and president of the Institute for Imago Relationship Therapy, and author of Getting the Love You Want

"Milan and Kay bring us a fresh look at intimacy and how we learn to love. Their practical and personal approach will enrich anyone's marriage."
–Daivd Stoop, PHD, psychologist and author of When Couples Pray Together

"I found How We Love to be extremely enlightening: a discovery of how best to love my wife, how to nurture her through a better understanding of our love styles, and how to implement change."
–Phil Waugh, executive director of Covenant Marriage Movement

"I have had the joy and privilege of working with Milan and Kay on a professional level and have been amazed at the success of their therapeutic techniques. Understanding our love styles and taking down the walls created by our imprints are skills that can help every marriage. I am thrilled that more couples will learn how to strengthen their relationships through the tools described in this book."
–Dr. Elizabeth John, MD, psychiatrist

"Milan and Kay have taken their own life experience, their research over the years, and their experience in the counseling office, and distilled it into a work that is rigorous, original, and understandable. If you want to strengthen and enrich your marriage, as well as grow personally, I strongly encourage you to read and digest this material. The effect on all your relationships will be powerful."
–Dr. Jim Masteller, executive director of the Center for Individual and Family Therapy

"Through Milan and Kay's candid stories you will learn your own love style, find how to connect more deeply with your spouse, and ultimately realize who you were meant to be at the core of your being."
–Greg Campbell, retired business executive

"Forget everything external you think defines you. The quality of your relationships and your contributions to them are what make life great or miserable. This book is a key to a world of insight into intimacy only you can bring to your relationships. With each page, I felt Milan and Kay had seen my movie! My marriage is different today because of the simple, profound help I discovered in these pages."
–Kenny Luck, author of Risk and Every Man, God's Man, men's pastor at Saddleback Church, and founder of Every Man Ministries

"The Yerkoviches have taken important developmental and psychological concepts and given them to us in a user-friendly fashion. They give us a peek into their personal journey and the countless people they have helped move from young hurts toward more meaningful intimate attachment. How We Love helps us see ourselves more clearly and understand our roles in the impasses of our relationships.…A practical and impactful read for all!"
–Jill Hubbard, PHD, clinical psychologist, cohost of New Life Live! national radio program, speaker, and full-time mom

"I am excited that Milan and Kay have given us the guiding principles of a successful marriage. With candor and uncommon insight they have demystified the issues in relationships that cause so many couples to get stuck. This book will get the wheels rolling and provide a destination filled with hope, healing, and fulfillment."
–Dr. Mick Ukeja, president of LeadershipTraq and chair of the Governing Council of the Ukleja Center for Ethical Leadership