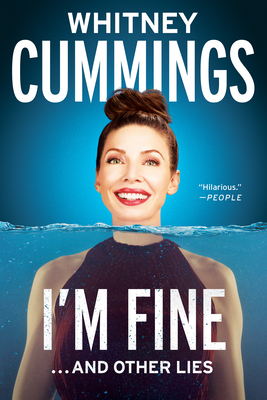 Description
---
A hilarious personal account of the life, times, and crippling anxiety of rising star comic, actress, writer, producer, and director Whitney Cummings, now in paperback.

After getting her start as a stand-up comic and then breaking out with her wildly successful CBS sitcom 2 Broke Girls (she's the creator, writer, and executive producer), Whitney Cummings has seen a few things and is turning to the written word to tell us all the stuff she doesn't say on stage.

This book contains some delicious schadenfreude in which Whitney recalls such humiliating debacles as breaking her shoulder while trying to impress a guy, coming very close to spending her life in a Guatemalan prison, and having her lacerated ear sewn back on by a deaf guy after losing it in a torrid love affair.

Full of intellect, anxiety, chutzpah, and profundity, I'M FINE...AND OTHER LIES is, in Whitney's words, like the internet if the internet were honest and didn't hate women. With her signature ball-busting edge and self-deprecation, Whitney comes clean about what has shaped her into the trailblazing comic that she is today. This intimate, no-holds-barred look at Whitney's life is a revelatory, profoundly astute, and most importantly, honest tale of what it means to be a woman in today's day and age and Twittersphere, with all of the insecurities and anxieties that come with that territory and with the most important takeaway being that, at the end of the day, no matter her situation, she's fine...and other lies.
About the Author
---
Whitney Cummings is a Los Angeles-based comedian, actor, writer, producer, and director. Best known for creating and starring in the NBC series Whitney, Whitney also is also co-creator and co-writer of the Emmy-nominated CBS comedy series 2 Broke Girls. She has appeared in multiple television shows and films, as well as multiple stand-up specials, one of which was nominated for an American Comedy Award. She is host of the podcast Good for You.
Praise For…
---
One of TODAY's Top Self-Help Books to Read in 2020 

"If having a quote from me might make you buy this book, you need to take a long hard look at yourself."—James Corden
 
"[An] honest, witty debut."—Cosmopolitan

"The comedian and creator of 2 Broke Girls spares no embarrassing details in this richly funny tell-all."—InStyle

"Hilarious." --People

"Fans of 2 Broke Girls can switch off their devices and read this funny, raunchy, feminist memoir from comic, actress, writer, and director Whitney Cummings."—Elle

"As far as funny memoirs go, I'm Fine...and Other Lies is pretty earnest. Cummings uses borderline-insane life experiences...as a springboard for poignant self-reflection."—Los Angeles Magazine

"Provides an honest viewpoint on what it means to be a successful woman in the business world and the importance of facing insecurities straight on. Through broken shoulders, botched surgeries and lacerated ears, Cummings reminds readers that it's OK to not set their default to the "I'm fine" mode." –Associated Press

"A zippy, unabashed narrative confronting personal adversity with an equal mix of humor and sincerity...[I'm Fine...And Other Lies is] an extremely self-deprecating assault on a laundry list of proclivities, insecurities, and intimate fears many readers will easily relate to...Akin to the inner-critical narrative voice of Amy Schumer, Cummings' observations expectedly tackle the uncomfortable and the embarrassing...with deflective humor and straight-up honesty, humility, and a keen sense of humanity."—Kirkus Reviews

"All hail the arrival of Whitney Cummings as a truly hilarious, keenly insightful and endlessly entertaining author. This book made me laugh so hard that sometimes I had to stop reading and dry my eyes. Do not drink fluids while reading this book. They will only shoot out of your unsuspecting nostrils. Buy three copies because you'll want to gift a couple. It's that good. It's official: Whitney Cummings can write her ass off."—Denis Leary

"Sassy, witty, profound and reassuring. All women—and men—should read this book."—Louann Brizendine, M.D., author of The Female Brain and The Male Brain

"Whitney Cummings has gone through a life of shame and embarrassment so you don't have to! Fortunately for everyone, she has made these stories hilarious, relatable, and conversational. This book is a must-read for anyone trying to learn how to human better."—Chris Hardwick

"Whitney Cummings is a unicorn riding a Pegasus while clinging on to Gollum's ring."—Joe Rogan, Host, The Joe Rogan Experience

"Cummings' crisp comedic voice is the driving force behind each essay, wherein the author regales with tales of the danger of self-deprecation and constant people pleasing. Her anecdotes are intimate and messy; she writes with candor...Fans will find a newfound trust and respect for this familiar voice."—Booklist

"Witty and sincere. . . Cummings is a gifted storyteller, skillfully mixing funny anecdotes [with] several truly harrowing moments. . . Her experiences will resonate deeply with those who battle low self worth and codependency." –Publishers Weekly, starred review 
 
"If celebrity memoirs are high up on her list, this hilarious book set against touching and relatable lessons is just the one." --PureWow