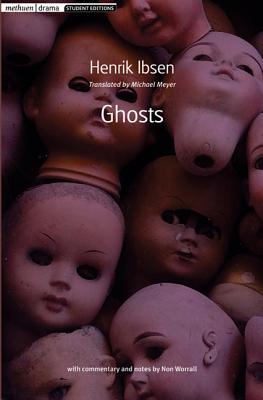 Description
---
Ghosts is Ibsen's formidably realistic play about the effects of previous generations on the young, a stinging satire on contemporary Norwegian society and morality, and a haunting tragedy that, more than a century since it premiered, still retains its power to shock.
In Ibsen's study of the lingering poison in a marriage based on a lie, Osvald Alving returns from Paris to his mother's home, carrying with him a dreadful secret. His mother's delight at having him home soon turns to horror and grief. The corruption that she had hoped to spare him from when sending him away from the influence of his depraved father has in fact infected his whole body in the form of syphillis. In Mrs Alving and her son's distrust of conventional religion and mores and Oswald's anguish with life, Ibsen created a thoroughly modern and provocative work that created widespread outrage and shock when first produced in 1881.
'Meyer's translations of Ibsen are a major fact in one's general sense of post-war drama. Their vital pace, their unforced insistence on the poetic centre of Ibsen's genius, have beaten academic versions from the field' George Steiner, The New Statesman
About the Author
---
Henrik Ibsen (1828-1906) was a Norwegian playwright and poet whose realistic, symbolic and often controversial plays revolutionised European theatre. He is widely regarded as the father of modern drama. His acclaimed plays include A Doll's House, Ghosts, Hedda Gabler, An Enemy of the People and The Pillars of the Community.
Praise For…
---
"Meyer's translations of Ibsen are a major fact in one's general sense of post-war drama. Their vital pace, their unforced insistence on the poetic centre of Ibsen's genius, have beaten academic versions from the field."—The New Statesman