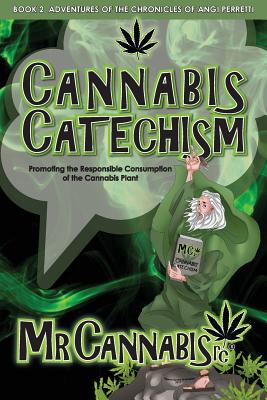 $25.00

NOT IN STOCK - Usually arrives in 7 - 14 business days
Description
---
The prevailing emergence of legalized marijuana across every community in America and around the world exposes Mankind to the many health resolutions and social ventures of recreational cannabis consumption, especially for young people under age 25. Parents may want to incorporate the Cannabis Catechism to initiate candid conversations about recreational marijuana to their kids.
The MCrc CANNABIS CATECHISM is a small, practical handbook about the subject matter at hand and stages a timely grand entrance into today's modern society, plagued with social ills and trials for a correct conscience, regarding the moral and responsible consumption of recreational cannabis. Parents of teens, and even adults of all ages, might want to make the MCrc Cannabis Catechism accessible in the home in order to nurture vital conversations about recreational marijuana to their kids, or to have for informative entertainment as they also will partake in a responsible manner. Perhaps parents would make a pledge to their own kids to follow the 10 Commandments for Responsible Consumption of the Cannabis Plant, thus setting a good example to their children.
The MCrc Message is loud and clear for all to explore and to enact into one's lifestyle. Everyone of Mankind can assume a responsible role to support one another in the MCrc Mission.
From Parents to Kids....from Kids to Parents...each directs a moral message to one another--one that promotes morality and moderation in consumption...and another message that inspires parents and teens to nurture vital conversations around the family dinner table concerning the use of recreational cannabis.
The author, MR CANNABISrc is a fictitious character and a divine prophet sent by God to Mankind to speak of truth and goodness about the Vices and Virtues of the cannabis plant. The MCrc Cannabis Catechism handbook focuses its messages to Teens & Young Adults, stressing the health risks and the social and educational hazards as profound reasons why to volunteer a pledge to their parents to "Wait Till 25" before the partaking of all recreational cannabis and alcohol.
In the end, MR CANNABISrc delivers the TEN COMMANDMENTS for Responsible Consumption of the Cannabis Plant to all Mankind, stressing the First Commandment to be the most important one of all:
"PLEDGE." "WAIT TILL 25 "