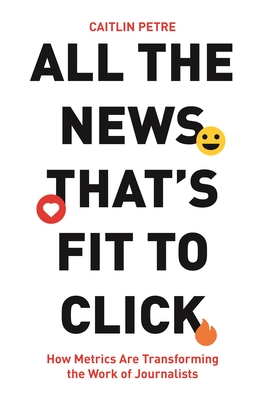 Description
---
From the New York Times to Gawker, a behind-the-scenes look at how performance analytics are transforming journalism today--and how they might remake other professions tomorrow
Journalists today are inundated with data about which stories attract the most clicks, likes, comments, and shares. These metrics influence what stories are written, how news is promoted, and even which journalists get hired and fired. Do metrics make journalists more accountable to the public? Or are these data tools the contemporary equivalent of a stopwatch wielded by a factory boss, worsening newsroom working conditions and journalism quality? In
All the News That's Fit to Click
, Caitlin Petre takes readers behind the scenes at the
New York Times
,
Gawker
, and the prominent news analytics company Chartbeat to explore how performance metrics are transforming the work of journalism. Petre describes how digital metrics are a powerful but insidious new form of managerial surveillance and discipline. Real-time analytics tools are designed to win the trust and loyalty of wary journalists by mimicking key features of addictive games, including immersive displays, instant feedback, and constantly updated "scores" and rankings. Many journalists get hooked on metrics--and pressure themselves to work ever harder to boost their numbers. Yet this is not a simple story of managerial domination. Contrary to the typical perception of metrics as inevitably disempowering, Petre shows how some journalists leverage metrics to their advantage, using them to advocate for their professional worth and autonomy. An eye-opening account of data-driven journalism,
All the News That's Fit to Click
is also an important preview of how the metrics revolution may transform other professions.
About the Author
---
Caitlin Petre is assistant professor of journalism and media studies at Rutgers University. She lives in New York City. Twitter @cbpetre