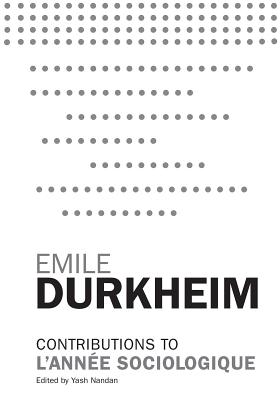 $33.95

NOT IN STOCK - Usually arrives in 7 - 14 business days
Description
---
For fifteen years, Emile Durkheim worked on the journal L'Annee Sociologique—selecting, editing, writing, and shaping the goals and methods of the "French School" of sociology. Now, Durkheim's own contributions to L'Annee are available in English. Classified and explained by Durkheim scholar Yash Nandan, this useful collection clarifies the role of L'Annee Sociologique in the development of scientific sociology; the position of L'Annee in the body of Durkheim's own work and the development of Durkheim's ideas; the importance and function of Durkheim's categories of sociological data; Durkheim's view of contemporaries, including Simmel, Westermarck, Tarde, Glotz, and Steinmetz; the exchange of ideas between historians and the L'Annee group; and the reasons for L'Annee's reputation as a unique publication in the history of sociology.

Professor Nandan has organized this material according to Durkheim's own classification system, with major sections on the concepts and methodologies of general, juridic, and moral sociology, criminal sociology, and the statistics on morals. Subdivisions treat issues in law, suicide, social, political, and domestic organization, juridic and moral systems, the social contexts of crime, the sociology of knowledge, political sociology, social history, and historical sociology.
About the Author
---
Emile Durkheim (1858–1917) was a French sociologist who formally established the academic discipline and, with Karl Marx and Max Weber, is commonly cited as the principal architect of modern social science.