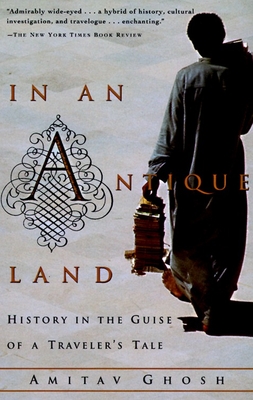 Description
---
Once upon a time, an Indian writer named Amitav Ghosh set out as an Indian slave, name unknown, who some seven hundred years before had traveled to the Middle East. The journey took him to a small village in Egypt, where medieval customs coexist with twentieth-century desires and discontents. But even as Ghosh sought to re-create the life of his Indian predecessor, he found himself immersed in those of his modern Egyptian neighbors.
 
Combining shrewd observations with painstaking historical research, Ghosh serves up skeptics and holy men, merchants and sorcerers. Some of these figures are real, some only imagine, but all emerge as vividly as the characters in a great novel. In an Antique Land is an inspired work that transcends genres as deftly as it does eras, weaving an entrancing and intoxicating spell.
About the Author
---
Amitav Ghosh was born in Calcutta and spent his childhood in Bangladesh, Sri Lanka, and northern India. He studied in Delhi and Egypt and at Oxford and taught at various Indian and American universities. The author of five non-fiction books and eight acclaimed novels, Ghosh has also written for Granta, The New Yorker, The New York Times, and The Observer. He lives in New York City with his wife and two children. His titles Sea of Poppies, River of Smoke, and Flood of Fire received critical acclaim.