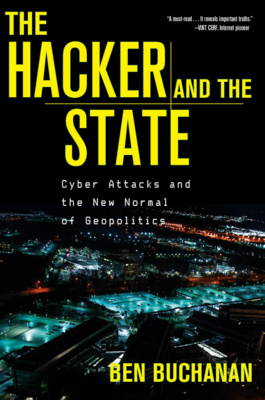 $19.95

Coming Soon - Available for Pre-Order Now
Description
---
An Open Letters Review Best Book of the Year
"One of the finest books on information security published so far in this century--easily accessible, tightly argued, superbly well-sourced, intimidatingly perceptive."
--Thomas Rid, author of
Active Measures
"The best examination I have read of how increasingly dramatic developments in cyberspace are defining the 'new normal' of geopolitics in the digital age."
--General David Petraeus, former Director of the CIA "A helpful reminder...of the sheer diligence and seriousness of purpose exhibited by the Russians in their mission."
--Jonathan Freedland,
New York Review of Books
Cyber attacks are less destructive than we anticipated, more pervasive, and much harder to prevent. With little fanfare and even less scrutiny, they target our banks, our tech and health systems, our democracy, and impact every aspect of our lives. Packed with insider information based on interviews, declassified files, and forensic analysis of company reports,
The Hacker and the State
explores the real geopolitical competition of the digital age and reveals little-known details of how China, Russia, North Korea, Britain, and the United States hack one another in a relentless struggle for dominance. It moves deftly from underseas cable taps to underground nuclear sabotage, from blackouts and data breaches to election interference and billion-dollar heists. Ben Buchanan brings to life this continuous cycle of espionage and deception, attack and counterattack, destabilization and retaliation. Quietly, insidiously, cyberhacks have reshaped our national-security priorities and transformed spycraft and statecraft.