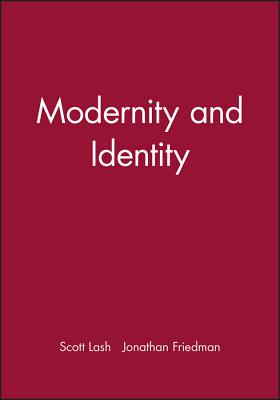 $57.25

NOT IN STOCK - Usually arrives in 7 - 14 business days
(Non-returnable)
Description
---
Modernity and Identity is a groundbreaking collective work which announces a radical new departure within contemporary debates on modernism and postmodernism.

While dominant conceptions of both modernism and postmodernism are centered around motions of statis and fixity, for most of the otherwise quite diverse writers in this book, modernity is a matter of movement, of flux, of change and of unpredictability.

Modernity and postmodernity are shown to mean, not the 'end of the subject' but the transformation and creation of new forms of subjectivity. Anthropological concepts are brought squarely into the heart of the modernity controversies, which are then recast in the context of tradition, globalization and of the crisis of identity in a newly de-centred world system.

The possibility of a third way is opened up, rejecting the opposition between the impersonal rationality of high modernism and the rationalist anti-ethics of postmodernism. The vision in this book is that of another modernity, which counter-poses Baudelaire to Rousseau, and loyalist ethics to abstract blueprints for social and political reorganization.

This book will be essential reading for students of sociology, cultural studies, literary theory, anthropology, urban studies and philosophy.
About the Author
---
Scott Lash lectures in sociology at Lancaster University. His books include The End of Organized Capitalism (1987) with John Urry; Max Weber, Rationality and Modernity (1987) with Sam Whimster and Sociology of Postmodernism (1990). Jonathan Friedman teaches anthropology at the universities of Lund and Copenhagen. He has written widely on culture and globalization in Review and Theory, Culture and Society. He has written System, Structure and Contradiction in the Evolution of Asiatic Social Formations (1979).