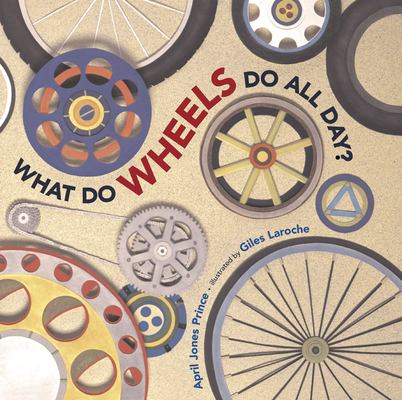 Description
---
Yeah, what do wheels do all day?
Well . . . they push . . . race . . . stroll . . . fly . . . whiz . . . and spin . . . all day long!

Simple, direct text, combined with brilliant cut-paper relief illustrations, captures kids' fascination with "things that go" and opens their minds to the wide variety of wheels and what they do.
About the Author
---
April Jones Prince is a children's book author and freelance editor. She published
Twenty-one Elephants and Still Standing
, a story about P. T. Barnum and the Brooklyn Bridge, with Houghton Mifflin Harcourt.
Giles Laroche, a master of cut-paper relief sculptures, captures stories from history that can't be told with photographs. Reviewers have called his art "truly masterful," "mind-bogglingly good," and "a visual feast." He lives in Salem, MA.  
Praise For…
---
"A short rhyming text in very large type provides the framework for Laroche's impressive bas-relief cut-paper collages. . . . Best of all, the wide, single-scene spreads create their own staccato rhythm, with wheels of all sizes punctuating the pages like beats of a drum." --Horn Book, starred Horn Book, Starred

"This handsome, large-format picture book points out common uses of wheels in a short, rhyming text, brightly illustrated with distinctive collage illustrations. . . . A simply written, well-illustrated picture book." —Booklist Booklist, ALA

"The striking collage art consists of paper cutouts that have been layered to provide dimension and enhanced by drawing and painting. . . . A fun choice for storytime."–SLJ School Library Journal —