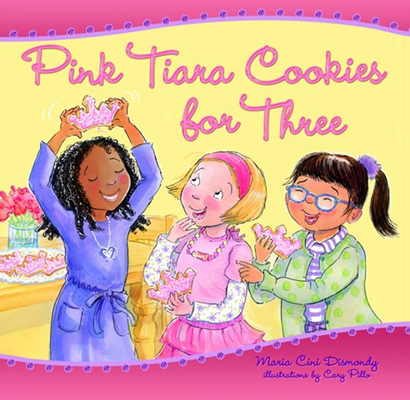 Description
---
Sami's perfect life falls apart when the new girl moves in next door. Sami doesn't need another friend… she has her best friend Stella! She thinks two is the perfect pair and three's a crowd!
Jasmine just wants to be included and play with her new neighbor friends. But three is a tricky number when it comes to friendships. Most of the time, someone gets left out.
As a teacher, author and much sought after presenter, author Maria Dismondy saw a need for a children's book that dealt with the difficulty kids have when there is jealousy in friendships. Pink Tiara Cookies for Three does exactly that. 
Pink Tiara Cookies for Three brings up the concept of "Three's a Crowd." 
Will Sami learn how to adjust and make room for one more friend? Will she see that her lack of inclusion is unkind? Through the lessons illustrated in this book, you can help your child learn what they can do in this type of situation. 
The best book for positively confronting "Three's a Crowd" in friendships.
Pink Tiara Cookies for Three by award-winning author, Maria Dismondy, carries the key message of conflict resolution, jealousy, and inclusion supported by the many advocates of positive parenting solutions. This book is the perfect addition to other books in your collection that focus on resolving conflict in three way friendships, of any age, such as the work of Diane Alber (A Little Spot of Kindness) and Trudy Ludwig (The Invisible Boy).
About the Author
---
Maria Dismondy is an award-winning author, specializing in books about challenges children face. As a sought-after speaker, Maria spreads her message by presenting at schools and conferences across the country. Maria lives in southeastern Michigan.