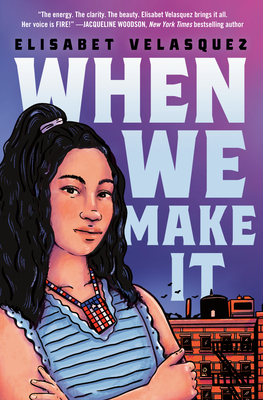 September/October 2021 Kids Indie Next List
---
"Elisabet Velasquez conjures her community into existence in a living, breathing narrative debut in verse that moved my soul. Her fiery, literary voice is echoing in my mind still."
— Brein Lopez, Children's Book World (CA), Los Angeles, CA
Description
---
"The energy. The clarity. The beauty. Elisabet Velasquez brings it all. . . . Her voice is FIRE!"—New York Times bestselling author Jacqueline Woodson

An unforgettable, torrential, and hopeful debut young adult novel-in-verse that redefines what it means to "make it," for readers of Nicholasa Mohr and Elizabeth Acevedo.

Sarai is a first-generation Puerto Rican eighth grader who can see with clarity the truth, pain, and beauty of the world both inside and outside her Bushwick apartment. Together with her older sister Estrella, she navigates the strain of family traumas and the systemic pressures of toxic masculinity and housing insecurity in a rapidly gentrifying Brooklyn. Sarai questions the society around her, her Boricua identity, and the life she lives with determination and an open heart, learning to celebrate herself in a way that she has been denied.

When We Make It is a love letter to anyone who was taught to believe that they would not make it. To those who feel their emotions before they can name them. To those who still may not have all the language but they have their story. Velasquez' debut novel is sure to leave an indelible mark on all who read it.

About the Author
---
Elisabet Velasquez is a Boricua writer born in Bushwick, Brooklyn. Her work has been featured in Muzzle Magazine, Winter Tangerine, Latina Magazine, We Are Mitú, Tidal and more. She is a 2017 Poets House fellow and the 2017 winner of the Button Poetry Video Contest. Her work is featured in Martín Espada's anthology What Saves Us: Poems of Empathy and Outrage in the Age of Trump. Elisabet lives in Jersey City, New Jersey, and When We Make It is her debut novel.
Praise For…
---
Kirkus Reviews Best Books
School Library Journal Best Books
Chicago Public Library Best Teen Fiction
The News & Observer Best Books for Kids

*"[M]asterfully weave[s] themes of religion, street life, sexual assault, language, poverty, the complexities of Boricua/Puerto Rican/Nuyorican identity, and so much more. . . . A gem for pleasure reading as well as classroom use. . . . Raw, breathtaking, and brilliant."—Kirkus Reviews, starred review

*"Candidly fierce . . . Exquisite poetry portrays not only anger and fear, but also hope . . . Gripping and soulful, this dynamic debut novel-in-verse is a must for every collection."—School Library Journal, starred review

* "Velasquez paints a complex portrait of a strong-voiced teen in this compelling verse novel. . . . The candid, clear-eyed poetry contains powerful inquiries about her diasporic Nuyorican identity and canny observations about the endemic social and racial inequities that surround her. . . . Frank, provocatively titled poems chronicle the family's struggles ("We're Sorry the Welfare Office Is Closed and Will Reopen When You Have No Bus Fare to Get Here"), while others capture everyday joys with a buoyant, electric energy ("If Being Boricua in Brooklyn Is a Feeling—It's the Best Kind"). Together, these vignettes capture Sarai's multilayered, heartbreaking, and hopeful coming of age."—Horn Book, starred review

"This gorgeously written novel in verse . . . will teach young women, in particular, that they can make it through tough times and learn to embrace their identity and background, face society, and put themselves first. A beautiful story whose deep messages will have lasting effects."—Booklist

"With verses that are unapologetically fierce and honest, Elisabet Velasquez captures the Brooklyn city streets with a Nuyorican vibe that can't be duplicated. When We Make it is the perfect, coming-of-age tale with rhythmic poetry that is certain to cement Velazquez as an exciting new young adult voice to celebrate."—Lilliam Rivera, Pura Belpré Honor-Winning Author of Never Look Back

"The energy. The clarity. The beauty. Elisabet Velasquez brings it all. And takes me home — to Bushwick in the most resonate and evocative of ways. The writing is clear-eyed, moving and funny. Her voice is FIRE!"—New York Times bestselling author Jacqueline Woodson
 
"This is the kind of book that makes you feel seen, the kind you read around the kitchen table to your sisters and friends. It will make you laugh and cry and remind you that you aren't alone. Elisabet's book will touch so many people's lives. It has already touched mine."—Angie Cruz, author of Dominicana
 
"Elisabet Velasquez is a dynamo. She is an outlaw, a troubadour, and has an ear tuned to our hearts.  In this groundbreaking novel-in-verse, Velasquez renders the heart in conflict with itself, the swag and bilingual sonic charge of Bushwick, an uncompromising love, and the reality of being a young Puerto Rican woman, using poetry to make sense of conflict and chaos in her relentless search for truth. When We Make It is an unforgettable debut."—Willie Perdomo, author of The Crazy Bunch