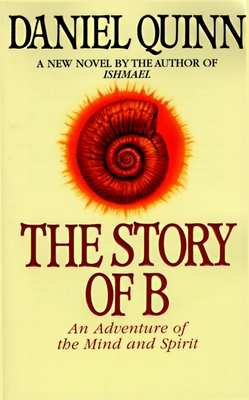 Other Books in Series
This is book number 2 in the Ishmael Series series.
Description
---
From the author of the critically acclaimed, award-winning bestseller Ishmael and its sequel, My Ishmael, comes a powerful novel with one of the most profound spiritual testaments of our time
 
"A compelling 'humantale' that will unglue, stun, shock, and rearrange everything you've learned and assume about Western civilization and our future."—Paul Hawken, author of The Ecology of Commerce
 
Father Jared Osborne has received an extraordinary assignment from his superiors: Investigate an itinerant preacher stirring up deep trouble in central Europe. His followers call him B, but his enemies say he's something else: the Antichrist. However, the man Osborne tracks across a landscape of bars, cabarets, and seedy meeting halls is no blasphemous monster—though an earlier era would undoubtedly have rushed him to the burning stake. For B claims to be enunciating a gospel written not on any stone or parchment but in our very genes, opening up a spiritual direction for humanity that would have been unimaginable to any of the prophets or saviors of traditional religion. Pressed by his superiors for a judgement, Osborne is driven to penetrate B's inner circle, where he soon finds himself an anguished collaborator in the dismantling of his own religious foundations. 
 
More than a masterful novel of adventure and suspense, The Story of B is a rich source of compelling ideas from an author who challenges us to rethink our most cherished beliefs.
 
Explore Daniel Quinn's spiritual Ishmael trilogy: 
ISHMAEL • MY ISHMAEL • THE STORY OF B
About the Author
---
Daniel Quinn grew up in Omaha, Nebraska, and studied at St. Louis University, the University of Vienna, and Loyola University of Chicago. He worked in Chicago-area publishing for twenty years before beginning work on the book for which he is best known, Ishmael. In 1991, this book was chosen from among some 2,500 international entrants in the Turner Tomorrow competition to win the half-million dollar prize for a novel offering "creative and positive solutions to global problems." It has subsequently sold more than a million copies in English, is available in some thirty languages, and has been used in high schools and colleges worldwide in courses as varied as philosophy, geography, ecology, archaeology, history, biology, zoology, anthropology, political science, economics, and sociology. Subsequent works include Providence, The Story of B, My Ishmael: A Sequel, Beyond Civilization, After Dachau, The Holy, At Woomeroo, The Invisibility of Success, and The Teachings. Daniel Quinn died in 2018.