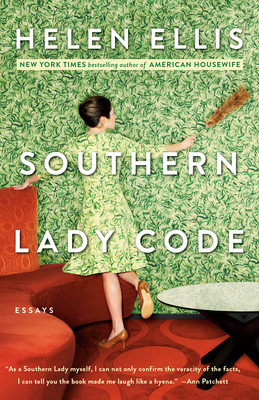 May 2019 Indie Next List
---
"I had forgotten how to laugh, but after opening this book and starting to read, I couldn't help myself—it just came bubbling up. What a wonderful thing it is to hold in your hands something that has the power to make one erupt with hoots and howls. Helen Ellis is a treasure and a gift from the gods; she tells it like it is in Southern lady speak and we love her all the more for the joy she has given us."
— Beth Reynolds, Norwich Bookstore, Norwich, VT
Description
---
A collection of essays that are "like being seated beside the most entertaining guest at a dinner party" (Atlanta Journal Constitution)—from the New York Times bestselling author of American Housewives

"Thank you Helen Ellis for writing down the Southern Lady Code so that others may learn." —Ann Patchett, bestselling author of The Dutch House

Helen Ellis has a mantra: "If you don't have something nice to say, say something not-so-nice in a nice way." Say "weathered" instead of "she looks like a cake left out in the rain" and "I'm not in charge" instead of "they're doing it wrong."

In these twenty-three raucous essays, Ellis transforms herself into a dominatrix Donna Reed to save her marriage, inadvertently steals a Burberry trench coat, avoids a neck lift, and finds a black-tie gown that gives her the confidence of a drag queen. While she may have left  Alabama for New York City, Helen Ellis is clinging to her Southern accent like mayonnaise to white bread, and offering readers a hilarious, completely singular view on womanhood for both sides of the Mason-Dixon.

About the Author
---
HELEN ELLIS is the author of Bring Your Baggage and Don't Pack Light, Southern Lady Code, American Housewife and Eating the Cheshire Cat. Raised in Alabama, she lives with her husband in New York City. She is a poker player and a plant lady. You can find her on Twitter @WhatIDoAllDay and Instagram @HelenEllisAuthor.
Praise For…
---
"Sassy…her essays are like being seated beside the most entertaining guest at a dinner party. Ellis is a refreshing entry into the annals of women humor writers that includes Nora Ephron, Erma Bombeck and Hollis Gillespie…[she] mines her Alabama heritage for all its worth, giving her essays a Southern spin that readers below the Mason-Dixon Line in particular will find relatable." —Atlanta Journal Constitution

"With a voice that's equal parts Nora Ephron and David Sedaris, this Alabama-raised, NYC-honed author should be your new woman crush. . . Full of piss and vinegar and hilarious one-liners that beg to be read aloud. Best of all, Ellis—a woman of spiky, unrepentant complexity—makes the case for living according to no one's rules but your own." —Family Circle

"It's hard to adequately describe these delightful autobiographical essays. Maybe that's because Alabama-born Ellis's take on Southern manners and mores is a unique blend of sardonic and sincere. More likely because it's difficult to formulate sentences when you're laughing this hard." —People
 
"Prepare yourself for some off-the-wall hilarity… Ellis is fun—like the Nutter Butter snowmen she serves at her retro holiday parties." —NPR

"Wry, candid, clever, and occasionally downright moving." —Alabama Public Radio
 
"Good advice and great reading. . . Ellis kills, whether on the page or at the poker table." —St. Louis Post-Dispatch

"Expecting out-of-town guests who need schooling in the ways of the South? Hand them a copy of Southern Lady Code by Helen Ellis." —The Augusta Chronicle

"A set of viciously funny essays that tackle marriage, thank-you notes and marijuana. You'll applaud the confidence she finds in donning a black-tie gown, and her paean to vacuuming will leave you in stitches. Ellis speaks her truth with a lipstick kiss." —Observer

"Helen Ellis returns with an essay collection about shifting moral codes as seen through the lens of her Southern upbringing… Ellis's sense of humor and honesty never fail to charm." —Wall Street Journal

"Hilarious…Devilish… Grab a copy of the Southern Lady Code and let Helen Ellis whisper an outrageous story into your ear. She's a hoot-and-half (that's Southern Lady Code for funny as all hell)... Laugh-out-loud funny... A literary cocktail of hilarious insights, snark, and shockingly good advice—best consumed with a vodka lemonade." —Due South

"Thank you Helen Ellis for writing down the Southern Lady Code so that others may learn. As a Southern Lady myself, I can not only confirm the veracity of the facts, I can tell you the book made me laugh like a hyena. A true Southern Lady loves anything that is both funny and profound, which this book is, so I loved it." —Ann Patchett
 
"Helen Ellis's Southern Lady Code lives between Fannie Flagg's Fried Green Tomatoes and Sloane Crosley's I Was Told There'd Be Cake. Ellis's irreverent doses of humor are life lessons celebrating colloquial expressions, regional specialties and offering delightful commentary on everything from what should be served at cocktail parties to what should occur behind closed doors." —A.M. Homes
 
"Helen Ellis is hilarious, brilliant, and utterly mad. Southern Lady Code will make you a better woman or a better man—once you have cleaned up the coffee you spit through your nose from laughing so hard. I loved this book: every essay and every word." —Chris Bohjalian
 
"Helen Ellis's brilliant voice shines in this witty, weird, and utterly wonderful essay collection—a glitter bomb of delights. From bringing foam fingers into the bedroom to trying pot for the first time in your forties, there's something for everyone in Southern Lady Code. Reading this feels like settling into a comfy couch and having a martini (or three) with your most hilarious friend." —Cristina Alger
 
"That Helen Ellis is at it again. Her brilliant essays are hotter than a five alarm Memphis BBQ, dirtier than a Jackson, Mississippi martini, sweeter than Mamaw's Alabama chess pie, and more poignant than the prom corsage you pressed in your family Bible. Helen's observations are witty, wise, elegant and down home, sometimes all at once. Savor like pimento cheese on crackers. Lucky us, her essays don't have a shelf life." —Adriana Trigiani

"Helen Ellis is so funny it causes me physical pain. I just want to sop this book up with a biscuit." —Samantha Irby, New York Times bestselling author of We Are Never Meeting in Real Life

"A vibrant storyteller with a penchant for the perverse, Ellis pivots... to nonfiction in this ribald collection of essays on manners, morals, and marriage, all colored by her off-kilter Alabama upbringing... Ellis's sharp eye for pop-culture preoccupations inspires smart-mouthed provocations... Ellis is a strong, vivid writer—and this book is gut-busting funny." —Publishers Weekly

"Ellis is a hoot and a half, which, as she might say, is Southern Lady Code for 'laughing 'til the tears flow' funny. In nearly two-dozen essays filled with belly laughs and bits of hard-won wisdom, Ellis' self-deprecating wit and tongue-in-cheek charm provide the perfect antidote to bad-hair, or bad-news, days." —Booklist

"By turns lighthearted and heart-wrenching… Reminiscent of each character from the TV sitcom Designing Women, Ellis's wonderfully amusing writing is hard to put down, and this book is no exception." —Library Journal (starred review)