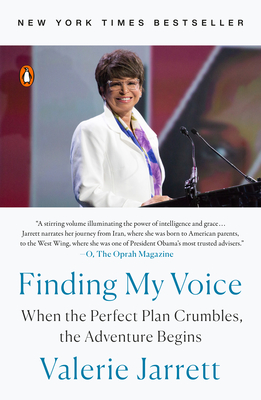 $19.80
Out of Stock Indefinitely
Description
---
A NEW YORK TIMES BESTSELLER

"Valerie has been one of Barack and my closest confidantes for decades... the world would feel a lot better if there were more people like Valerie blazing the trail for the rest of us."--Michelle Obama

"The ultimate Obama insider" (The New York Times) shares her journey at a pivotal moment in American history

When Valerie Jarrett interviewed a promising young lawyer named Michelle Robinson in July 1991 for a job in Chicago city government, neither knew where that meeting might take them. Jarrett would go on to become a trusted friend and advisor to Michelle and Barack Obama -- and one of the most visible, influential African-American women of the twenty-first century.

Now, in her forthright and optimistic memoir, Jarrett shares her experience as a mother, daughter, and woman who's experienced the magic that happens once we cast aside any unrealistic expectations of a perfect life or a perfect outcome. In Finding My Voice, she offers a galvanizing testament to the power in staying open to a change in course and an embrace of the uncomfortable. Only then, she argues, can we move forward together and truly learn to value--and listen to--our own voices.
About the Author
---
Valerie Jarrett was the longest serving senior adviser to President Barack Obama. She oversaw the Offices of Public Engagement and Intergovernmental Affairs and chaired the White House Council on Women and Girls. She is currently a senior advisor to the Obama Foundation and ATTN:, and she is a senior distinguished fellow at the University of Chicago Law School.
Praise For…
---
"A stirring volume illuminating the power of intelligence and grace...Jarrett narrates her journey from Iran, where she was born to American parents, to the West Wing, where she was one of President Obama's most trusted advisers."—O, The Oprah Magazine

"Jarrett had charted an ideal path for herself — "law school, work, marriage, baby, bliss." Then her marriage … imploded. She was a single mom and a miserable, mediocre associate at a law firm. The separation and subsequent soul searching prompted her to leave the firm and climb into Chicago politics. The rest was history… Jarrett's early struggles relay a … life lesson. Her early, mistaken view was that "it was somehow a sign of strength if I had the self-control to never waver from my intended course."—The New York Times

"[Jarrett] shares the stories you're dying to hear about what it's like to advise (and just hang out with) former President Barack Obama."—Bustle

"Rather than a tell-all that spills salacious secrets, the book is more of a guide that Jarrett hopes will connect with a younger generation...Though large sections are dedicated to her White House years, there's much more to Jarrett's story...Throughout, she laces the anecdotes with reflections of what she wishes she knew at the time."—The Chicago Tribune

"Jarrett shares her road from Chicago to the White House...Jarrett is modest and engaging, someone who does not seek nor relish confrontation nor celebration...But for the moment, she is briefly stepping out into the spotlight."—The Los Angeles Times

"Jarrett movingly captures life as a public servant in this detailed, well-told memoir."—Publishers Weekly

"Revisiting her illustrious career, from inner-city Chicago to the White House and beyond, Jarrett reveals the life-changing events that, though perilous at the time, enabled her to become a virtuoso corporate and philanthropic leader, and a valued presidential adviser."—Booklist

"An insightful addition to a growing shelf of books by insiders from the Obama administration."—Kirkus Reviews