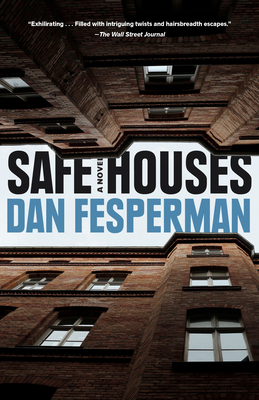 $20.90
Out of Stock Indefinitely
Description
---
In "one of the great espionage novels of our time" (#1 New York Times bestselling author Lee Child), a young woman goes on the run after discovering a dark truth at the heart of the CIA's operations in postwar Berlin, only to be murdered years later. Now her daughter is determined to uncover the truth.

West Berlin, 1979. Helen Abell oversees the CIA's network of safe houses, rare havens for field agents and case officers amidst the dangerous milieu of a city in the grips of the Cold War. Helen's world is upended when she overhears a meeting between two people unfamiliar to her speaking a coded language that hints at shadowy realities. Before the day is out, she witnesses a second unauthorized encounter, one that will place her in the sight lines of the most ruthless and dangerous man at the agency.

What she has witnessed will have repercussions that reach across decades and continents into the present day, when, in a farm town in Maryland, a young man is arrested for the double murder of his parents, and his sister takes it upon herself to find out why he did it.
About the Author
---
DAN FESPERMAN's travels as a journalist and novelist have taken him to thirty countries and three war zones. Lie in the Dark won the Crime Writers' Association of Britain's John Creasey Memorial Dagger Award for best first crime novel, The Small Boat of Great Sorrows won their Ian Fleming Steel Dagger Award for best thriller, and The Prisoner of Guantánamo won the Dashiell Hammett Award from the International Association of Crime Writers. He lives in Baltimore.
Praise For…
---
"The narrative choreography demanded by Fesperman's split timelines is expertly handled, and the dilemma faced by Helen, in particular – whether to be a good employee or a good citizen – illustrates the kind of weight that the spy novel, in the right hands, is capable of bearing." 
—The New York Times Book Review

"In Safe Houses, author Dan Fesperman superbly melds a character-strong espionage thriller with a suspenseful mystery that also aligns with the #MeToo movement . . . [A] superior thriller – both on the international and domestic front."
—Associated Press
 
"Filled with intriguing twists and hairsbreadth escapes . . . Exhilarating."
—The Wall Street Journal

"This one is a doozy."
—Entertainment Weekly, 7 Thrillers You Need to Read This Summer

"Wonderful.  Fesperman raises the bar sky-high with this one.  Smart, sophisticated, suspenseful, and intensely human.  One of the great espionage novels of our time."
—Lee Child, #1 New York Times bestselling author

"A bracing and blistering work that rivals the best of Nelson DeMille." 
—Providence Journal

"This is a masterfully constructed example of classic le Carre-style espionage fiction."
—Booklist (starred review)

"Prolific spy novelist Fesperman delivers another winner, this one as fiendishly clever as it is richly entertaining."
—Kirkus (starred review)

"Aficionados of quality spy fiction will be rewarded."
—Publishers Weekly

"A terrific book about work and love, mothers and daughters, loyalty and betrayal, combining the gripping immediacy of a present-day murder mystery with the high-stakes sexy intrigue of a Cold War espionage thriller."
—Chris Pavone, best-selling author of The Expats

"A bullet-train thriller and an intriguing labyrinth of a mystery, Dan Fesperman's Safe Houses will make your time between stations disappear."
—Peter Blauner, author of Sunrise Highway and Slow Motion Riot
 
"What a terrific book.  The intricate plot commands your attention and repays it beautifully.  A particular delight for me was a meticulously researched Berlin that may evolve with the years but remains forever haunted.  From the very first chapter you know that this is a spy novel that will not end without a reckoning of the human cost of secrets and the inevitable corruption of institutions that use security to remain accountable only to themselves."
—William Christie, author of A Single Spy
 
"If you're going to treat yourself to a spy thriller over a beach weekend, make it Safe Houses." 
—Garden & Gun
 
"Safe Houses showcases a lean, muscular prose that is able to deliver plot points as cleanly and quickly as a switchblade's twist."
—Criminal Element

"Fesperman delivers a breathtaking, intricate international spy novel unnervingly on point for the #MeToo moment."
—Library Journal

"Fesperman's strong prose meets a cast of beautifully developed characters, all of whom have various secrets and a multitude of layers, in this seriously twisty thriller . . . Safe Houses is one heck of a ride and a must-read for spy fans everywhere." 
—The Real Book Spy