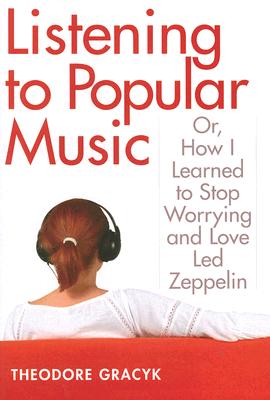 Description
---
It has long been assumed that people who prefer Led Zeppelin to Mozart live aesthetically impoverished lives. But why? In Listening to Popular Music, award-winning popular music scholar Theodore Gracyk argues that aesthetic value is just as important in popular listening as it is with "serious" music. And we don't have to treat popular music as art in order to recognize its worth. Aesthetic values are realized differently in different musical styles, and each requires listening skills that people must learn.
Boldly merging insights from popular music studies, aesthetic theory, cognitive science, psychology, identity theory, and cultural studies, Gracyk crafts an innovative study that argues that understanding aesthetic value is crucial to the enjoyment of all forms of music.
Listening to Popular Music
thusoffers a new, general framework for understanding what it means to appreciate music, showing that an informed preference for popular music is a response to real values of the music, including aesthetic values."Finally, a book on aesthetics that's philosophically grounded, anti-elitist, and tailored to popular music. Much needed and deftly achieved."
—William Echard, Department of Music, and Institute for Comparative Studies in Literature, Art, and Culture, Carleton University"A sophisticated account of aesthetic value in popular music that revealingly challenges orthodoxies of cultural studies and traditional aesthetics."
—Stephen Davies, Department of Philosophy, University of Auckland, and author of
The Philosophy of Art
"Gracyk's arguments are thoughtful, clear, and persuasive, and it's refreshing to see him expose the flaws in commonly repeated critiques of popular music. This book will challenge open-minded doubters to take popular music seriously."
—Mark Katz, Assistant Professor of Music, University of North Carolina at Chapel Hill, and author of
Capturing Sound: How Technology Has Changed Music
Theodore Gracyk
is Department Chair and Professor of Philosophy at Minnesota State University Moorhead. He is the author of
Rhythm and Noise: An Aesthetics of Rock
and
I Wanna Be Me: Rock Music and the Politics of Identity
, which won the 2002 IASPM-US Woody Guthrie Book Award.