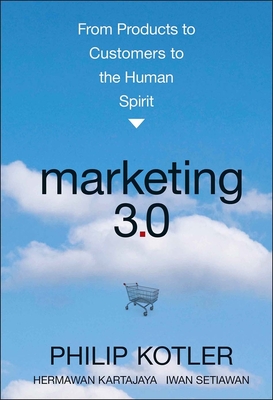 $24.95

NOT IN STOCK - Usually arrives in 7 - 14 business days
(Non-returnable)
Description
---
Understand the next level of marketing
The new model for marketing-Marketing 3.0-treats customers not as mere consumers but as the complex, multi-dimensional human beings that they are. Customers, in turn, are choosing companies and products that satisfy deeper needs for participation, creativity, community, and idealism.
In Marketing 3.0, world-leading marketing guru Philip Kotler explains why the future of marketing lies in creating products, services, and company cultures that inspire, include, and reflect the values of target customers.
Explains the future of marketing, along with why most marketers are stuck in the past
Examines companies that are ahead of the curve, such as S. C. Johnson
Kotler is one of the most highly recognized marketing gurus, famous for his 4 P's of Marketing
In an age of highly aware customers, companies must demonstrate their relevance to customers at the level of basic values. Marketing 3.0 is the unmatched guide to getting out front of this new tide sweeping through the nature of marketing.
About the Author
---
PHILIP KOTLER is the S.C. Johnson & Son Distinguished Professor of International Marketing at Northwestern University's Kellogg School of Management, and one of the world's leading authorities on marketing. His writing has defined marketing around the world for the past forty years. The recipient of numerous awards and honorary degrees from schools all over the world, he holds an MA from the University of Chicago and a PhD from MIT, both in economics. Kotler has an incredible international presence--his books have been translated into approximately twenty-five languages, and he regularly speaks on the international circuit. HERMAWAN KARTAJAYA is the founder and CEO of MarkPlus, Inc. and is one of the "50 Gurus Who Have Shaped the Future of Marketing" according to the Chartered Institute of Marketing, United Kingdom. IWAN SETIAWAN is a senior consultant at MarkPlus, Inc. where he consults for clients on marketing strategies.