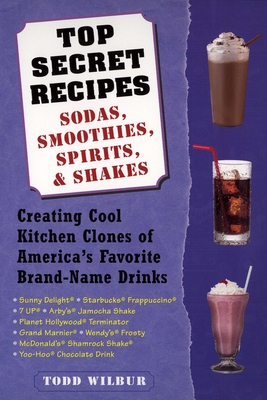 $17.60
Out of Stock Indefinitely
Description
---
#1 bestselling Top Secret Recipes series!
Todd Wilbur shares his best-kept secrets for making knockoffs of your favorite drinks-right in your own kitchen and without spending a lot of money. Readers can re-create the delicious taste of America's best-loved brand-name soft drinks, beverages, dessert drinks, mixers, and liqueurs by following Todd's easy, step-by-step instructions. If it comes in a glass, cup, bottle, or mug, it's here for you to clone at home. Discover how to make your own versions of:
* 7-Up®
* Starbuck's® Frappuccino®
* Nestea®
* Sunny Delight®
* Dairy Queen® Blizzard®
* McDonald's® Shamrock Shake®
* 7-Eleven® Cherry Slurpee®
About the Author
---
For more than 25 years, Todd Wilbur has been reverse-engineering America's most iconic foods for his series of 11 Top Secret Recipes cookbooks. With over 5 million books in print, the self-proclaimed "food hacker" has appeared in over 100 media outlets including The New York Times, People Magazine, Newsweek, The Daily News, Entertainment Weekly, The Oprah Winfrey Show, The Today Show, Good Morning America, Fox & Friends, The Dr. Oz Show, and The Food Network.  His website www.TopSecretRecipes.com is the #1 copycat recipes website with 1 million visitors every month. He lives with his family in Las Vegas, NV.
Praise For…
---
"The mission: Decode the secret recipes for America's favorite junk foods. Equipment: Standard kitchen appliances. Goal: Leak the results to a ravenous public."—USA Today
 
Praise for Todd Wilbur #1 bestselling Top Secret Recipes series

"[Wilbur's] problem isn't that the recipes he's devised aren't good enough, it's that they're too good."—Entertainment Weekly
 
"There is something magically compelling about the idea of making such foods at home...The allure is undeniable, and [the books are] stuffed with tidbits and lore you're unlikely to find anywhere else. These probably come as close as you can get to the original recipes."—Boston Herald
 
"This is the cookbook to satisfy all your cravings."—Juli Huss, author of The Faux Gourmet
 
"The recipes are easy to follow and... by preparing your own versions of restaurant meals you will almost always save money."—Arizona Daily Star
 
"[Wilbur's] recipes use everyday supermarket ingredients to bring brand-name foods to the home kitchen. Perhaps not surprisingly, his recipes are not complex. If anything, they reflect how easy home cooking can be."—Star Tribune (Minneapolis--St. Paul)
 
"The assignment: Find out how to make the tasty Jack Daniels Grill Sauce used by T.G.I. Friday's restaurants. The client: Oprah Winfrey. The gumshoe: Todd Wilbur. Mission Impossible for even the most savvy food expert. But not so for Todd Wilbur, a crackerjack culinary sleuth."—Pocono Record
  
"Many of [Wilbur's] dishy imitations come, like a box of Cracker Jacks, with a surprise inside."—Mademoiselle