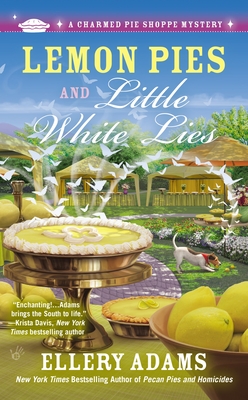 $8.79
Out of Stock Indefinitely
Other Books in Series
This is book number 4 in the A Charmed Pie Shoppe Mystery series.
Description
---
From the New York Times bestselling author of the Books by the Bay series and the Book Retreat mysteries--Includes pie recipes!

After Pecan Pies and Homicides comes another tangy slice of life—and death—in a charmed, and charming, small town...
 
Ella Mae LeFaye's Charmed Pie Shoppe has become a phenomenon beyond her wildest dreams, providing the enchanted town of Havenwood, Georgia, with spellbinding desserts and magical pies. Her personal life is also heating up as she takes on the responsibilities of leadership within her magical community. In fact, the only thing weighing her down is the fact that handsome Hugh Dylan won't return her calls…
 
Still, when Havenwood is rocked by a series of mysterious deaths, Ella Mae must put romantic longings aside—especially when she realizes that the mystical symbols left at each crime scene are dangerously personal. Now she will have to whip up all her supernatural skills to uncover a killer out to settle an ancient score—before the murderer devastates everything Ella Mae is determined to protect…
About the Author
---
Ellery Adams is the New York Times bestselling author of the Books by the Bay Mysteries (including Murder in the Mystery Suite) and the Charmed Pie Shoppe Mysteries (including Pecan Pies and Homicides). Ms. Adams has held many jobs, including caterer, retail clerk, car salesperson, teacher, tutor, and tech writer, all while penning poems, children's books, and novels.
Praise For…
---
Praise for the Charmed Pie Shoppe Mysteries

"An original, intriguing storyline that celebrates women, family, friendship, and loyalty within an enchanted world, with a hint of romance, an engaging cast of characters and the promise of a continued saga of magical good confronting evil."—Kirkus Reviews

"Adams permeates this unusual novel—and Ella's pies—with a generous helping of appeal."—Richmond Times-Dispatch

"Delicious, delightful and deadly!  Full of enchanting characters in a small town setting, this Charmed Pie Shoppe mystery will leave readers longing for seconds."—Jenn McKinlay, New York Times bestselling author

"Enchanting! The Charmed Pie Shoppe has cast its spell on me! Ellery Adams brings the South to life with the LeFaye women of Havenwood."—Krista Davis, New York Times bestselling author

"[A] savory blend of suspense, pies, and engaging characters. Foodie mystery fans will enjoy this."—Booklist