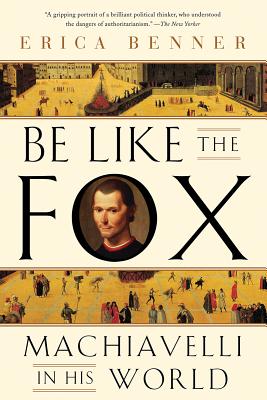 $17.95

NOT IN STOCK - Usually arrives in 7 - 14 business days
Description
---
"Remarkable, engaging.… Be Like the Fox can be read with pleasure by anyone interested in the craft of politics and the life of ideas."—New York Times Book Review
In the five hundred years since he wrote
The Prince
, Machiavelli's name has been linked to tyranny and the doctrine that "the ends justify the means." But that is not what he stood for. In 
Be Like the Fox
, Erica Benner takes us back to Renaissance Florence, where newly liberated citizens fought to build a free republic after the Medici princes were exiled. Machiavelli dedicated his life to this struggle for freedom. But despite his heroic efforts, the Medici soon swept back into power. Forced out of politics and prevented from speaking freely, Machiavelli had to use his skills of foxlike dissimulation to defend democracy in an era of tyrannical princes. Drawing on his letters, political writings, hard-hitting satirical dramas, and conversations with kings and popes,
Be Like the Fox
reveals Machiavelli as an unlikely hero for our times.
About the Author
---
Erica Benner lives in Berlin. She is the author of several books, including Machiavelli's Ethics and Machiavelli's Prince: A New Reading. Formerly a Fellow at Yale University, Benner taught for many years at Oxford University and the London School of Economics.
Praise For…
---
Lively, compulsively readable, unshowily erudite.
— Terry Eagleton - Guardian

A ripping read.… fascinating, charming, enjoyably unorthodox.
— Telegraph

In this tightly composed narrative of Machiavelli's life and works, Benner argues that The Prince is a work of secret subversion, using irony and beguilement to advance a staunchly republican message.… A gripping portrait of a brilliant political thinker, who understood the dangers of authoritarianism and looked for ways to curb them even though independent speech had become impossible.

— The New Yorker

Unconventional.… Benner argues that in [his] turbulent, violent world, Machiavelli's most consistent advice favoured principle, restraint and respect for the rule of law, even in The Prince.… Compelling.

— Julian Baggini - Financial Times

Erica Benner convincingly argues [that] there was a great deal more to Machiavelli.… She interweaves his own words with those of his contemporaries, as well as setting him in the context of his world. The result is a rich, vivid, and endlessly surprising portrayal of the man and his times.
— BBC Book Review

Benner's eminently readable book serves as an introduction to Machiavelli and offers plenty of fresh insight even for those sure they know him and his work. Like Machiavelli's own writings, Benner's is a meditation on the virtues and flaws of various forms of government and ambitious men who will rule at will unless checked by institutions.
— Foreign Policy

Excellent.… [Benner is] a fantastic reader of Machiavelli's very varied literary output. She's as well-versed in this author's writing style and writing mind as readers could ask of any biographer.
— Open Letters Monthly

Fascinating, remarkable.… Erica Benner illuminates not only the life of Machiavelli but the complex and cruel political world in which he operated.
— Avi Shlaim

Erica Benner's enthralling and moving evocation of Machiavelli's turbulent career reveals how much he is our contemporary.
— Rosamund Bartlett, author of Tolstoy: A Russian Life

In our world of new princes and divided societies, with confrontations in constant danger of escalating to conflict, Be Like the Fox reads like a cautionary call from the past. Anyone seeking to understand power, force, and government today would do well to read this book.

— General Sir Rupert Smith, author of The Utility of Force: The Art of War in the Modern World