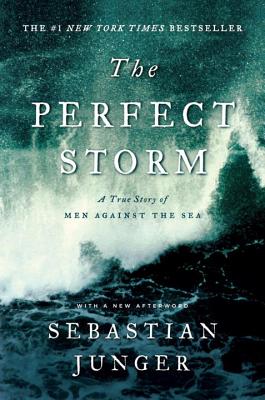 $15.95

NOT IN STOCK - Usually arrives in 7 - 14 business days
Description
---
"There is nothing imaginary about Junger's book; it is all terrifyingly, awesomely real." —Los Angeles Times
It was the storm of the century, boasting waves over one hundred feet high—a tempest created by so rare a combination of factors that meteorologists deemed it "the perfect storm." In a book that has become a classic, Sebastian Junger explores the history of the fishing industry, the science of storms, and the candid accounts of the people whose lives the storm touched. The Perfect Storm is a real-life thriller that makes us feel like we've been caught, helpless, in the grip of a force of nature beyond our understanding or control.
Winner of the American Library Association's 1998 Alex Award.
About the Author
---
Sebastian Junger is the author of A Death in Belmont and Fire. He has been awarded a National Magazine Award and an SAIS Novartis Prize for journalism. Most recently, he has been reporting on the war in Afghanistan for Vanity Fair. He lives in New York City.
Praise For…
---
Every boater is drawn to storm-at-sea stories, and this one beats them all.
— Philadelphia Inquirer

Rich, compassionate characterization, as well as taut, suspenseful prose. A tale that doesn't skimp on facts, yet keeps you turning pages from beginning to end.
— Seattle Times

Riveting…The natural upheaval holds center stage and acts as a character, but the story converges upon human beings—in this case, the six-man crew of the doomed Gloucester swordfishing boat Andrea Gail.

— Boston Globe

Harrowing, relentless…and thoroughly enjoyable.
— Kansas City Star

A terrifying, edifying read…Readers…are first seduced into caring for the book's doomed characters, then compelled to watch them carried into the jaws of a meteorological hell. Junger's compassionate, intelligent voice instructs us effortlessly on the sea life of the sword-fisherman, the physics of a sinking steel ship, and the details of death by drowning.
— Dava Sobel

One reads with the most intense concern, anxiety and concentration; and if one knows anything at all about the sea one feels the absolutely enormous strength of the hurricane winds and the incredibly towering mass of the hundred-foot waves.
— Patrick O'Brian

The pages of this book crunch with salt.
— Boating