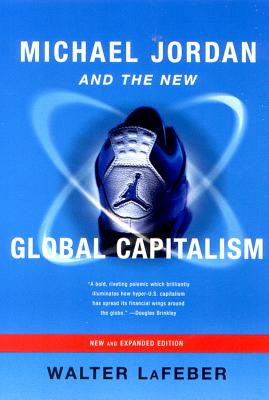 $21.95

NOT IN STOCK - Usually arrives in 7 - 14 business days
Description
---
Walter LaFeber's timely analysis looks at the ways that triumphant capitalism, coupled with high-tech telecommunications, is conquering the nations of the world, one mind—one pair of feet—at a time.
With
Michael Jordan and the New Global Capitalism
, Walter LaFeber has written a biography, a social history, and a far-ranging economic critique. From basketball prodigy to international phenomenon to seductive commercial ideal, Michael Jordan is the supreme example of how American corporations have used technology in a brave, massively wired new world to sell their products in every corner of the globe. LaFeber's examination of Nike and its particular dominion over the global marketplace is often scathing, while his fascinating mini-biography of Michael Jordan and the commercial history of basketball reveal much about American society. For this new paperback edition, LaFeber has added a chapter on globalization in a changed world, after mass protests and since September 11. "Bold, riveting....Brilliantly illuminates how hyper-US capitalism has spread its financial wings around the globe."—Douglas Brinkley "LaFeber brings an impressive intellect to bear on his subject."—Barbara Rudolph,
Chicago Tribune
About the Author
---
Walter LaFeber (1933—2021) was professor of history at Cornell University and the author of The Clash, winner of the 1998 Bancroft Prize, and Inevitable Revolutions.