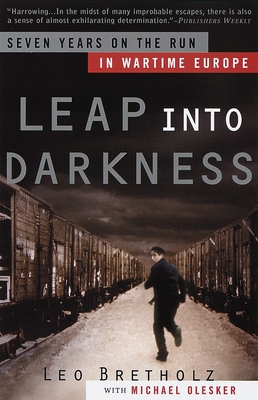 $18.65

NOT IN STOCK - Usually arrives in 7 - 14 business days
Description
---
A harrowing, action-packed account of the author's series of audacious escapes from the Nazis' Final Solution--"riveting...a fascinating and moving piece of history" (Library Journal).

Young Leo Bretholz survived the Holocaust by escaping from the Nazis (and others) not once, but seven times during his almost seven-year ordeal crisscrossing war-torn Europe. He leaped from trains, outran police, and hid in attics, cellars, anywhere that offered a few more seconds of safety. First he swam the River Sauer at the German-Belgian border. Later he climbed the Alps on feet so battered they froze to his socks--only to be turned back at the Swiss border. He crawled out from under the barbed wire of a French holding camp, and hid in a village in the Pyrenees while gendarmes searched it. And in the dark hours of one November morning, he escaped from a train bound for Auschwitz.

Leap into Darkness is the sweeping memoir of one Jewish boy's survival, and of the family and the world he left behind.
About the Author
---
Leo Bretholz arrived in the United States in 1947 and settled in Baltimore, where he worked in the textile business and then as a bookseller for many years. He lectured extensively about his Holocaust memories. He died in 2014.

Michael Olesker is a former syndicated columnist for the Baltimore Sun newspaper and author of five nonfiction books.
Praise For…
---
"Harrowing...In the midst of many improbable escapes, there is also a sense of almost exhilarating determination." --Publishers Weekly

"Riveting--a fascinating and moving piece of history." --Library Journal

"No one can read [this] history without realizing--the remarkable courage of individuals, and the tremendous importance of stories such as this being published for all to read." --Sir Marin Gilbert, author of The Holocaust

"This loving and lovely memoir should be read by everyone interested in the daily lives of young Jews caught in the Holocaust. Leo Bretholz's story grabs you, and it won't shake when you've finished the book." --Deborah Dwork, coauthor of Auschwitz: 1270 to Present

"This memoir is that rarest of all survivors: a man who jumped from a train on his way to a death camp. The reader is with Bretholz at every step, following with mounting tension his struggle to escape." --Raul Hilberg, author of The Destruction of the European Jews