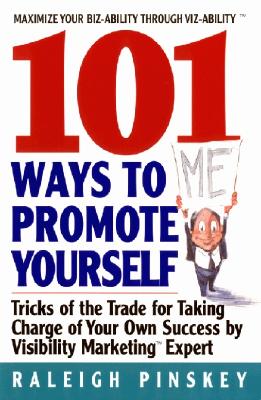 $14.95

NOT IN STOCK - Usually arrives in 7 - 14 business days
(Non-returnable)
Description
---
You may have the most outstanding business, product, idea or talent in the world, but in order to be successful, you have to let the world know about it. Raleigh Pinskey offers you a crash course on how to get the attention you need. 101 Ways to Promote Yourself reveals the insider secrets learned from years of experience and how these low-cost, high-powered techniques can carry you to the top of your market and beyond.
Find out how to:
Develop hot new leads
Project a positive image
Get your name in front of potential customers
Promote instant name recognition
Hold on to valued customers
Build on your success by cultivating referrals
Position yourself for greater visibility in your market
Grow and expand your network and database
Explore media opportunities
Market effectively on the Internet
Create goodwill in your community
About the Author
---
Raleigh Pinskey is CEO of the Raleigh Group, a Los Angeles-based international, multi-faceted visibility marketing and public relations company founded in 1979, that specializes in making entrepreneurs, small businesses, and entertainers visible and prosperous.
Visibility consulting clients include men's and women's apparel and accessory stores, shoe stores, pet stores, doctors, lawyers, travel bureaus, restaurants, grocery stores, non-profit organizations, generator manufacturers, engine additive developers, fancy fortune cookie bakers, architects, and the original singing telegram company. She's also worked with musicians such as Sting, Paul McCartney and Wings, David Bowie, Blondie, KISS and Herbie Mann, as well as fitness guru Callen Pinkney's Callenetics, Chicken Soup for the Soul authors Jack Canfield and Mark Victor Hansen, and The Bronx Zoo's A Great Snake Named Jake.
She is the author of the internationally successful You Can Hype Anything: Creative Tactics and Advice for Anyone With a Product, Business, or Talent to Promote (Citadel Press); Talk Your Way Onto Talk Shows; The Zen of Hype: An Insider's Guide to the Publicity Game, an eight-cassette public relations home study course; The Musician's Guide to the Zen of Hype, four cassettes and a twenty-one-page booklet with media releases; and Soul Candy: Sayings that Nourish the Body, Mind and Spirit (all available from RRP Publishing).
An internationally known professional lecturer, Raleigh speaks on the topic "Promote & Prosper: Visibility Marketing Secrets That Grow Your Business." She's taught at UCLA's Extension School of Journalism and Public Relations and is a member of the National Speakers Association.
Raleigh walks her talk. She's a frequent guest on radio and TV and contributes to consumer magazines and business journals. She's the visibility marketing columnist for International Business Woman magazine, host of a weekly radio show, a guest expert for Entrepreneur Magazine's World Wide Web Online marketing programming, and a guest host for the America OnLine Lunch programming.