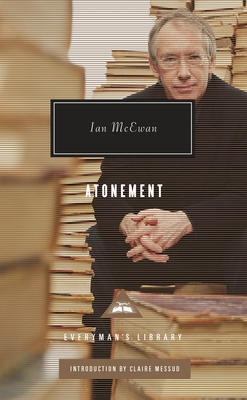 Description
---
On the hottest day of the summer of 1935, thirteen-year-old Briony Tallis sees her older sister Cecilia strip off her clothes and plunge into the fountain in the garden of their country house. Watching Cecilia is their housekeeper's son Robbie Turner, a childhood friend who, along with Briony's sister, has recently graduated from Cambridge.

By the end of that day the lives of all three will have been changed forever. Robbie and Cecilia will have crossed a boundary they had never before dared to approach and will have become victims of the younger girl's scheming imagination. And Briony will have committed a dreadful crime, the guilt for which will color her entire life.

In each of his novels Ian McEwan has brilliantly drawn his reader into the intimate lives and situations of his characters. But never before has he worked with so large a canvas: In Atonement he takes the reader from a manor house in England in 1935 to the retreat from Dunkirk in 1941; from the London's World War II military hospitals to a reunion of the Tallis clan in 1999.

Atonement is Ian McEwan's finest achievement. Brilliant and utterly enthralling in its depiction of childhood, love and war, England and class, the novel is at its center a profound–and profoundly moving–exploration of shame and forgiveness and the difficulty of absolution.
About the Author
---
Ian McEwan is the bestselling author of more than ten books, including the novels The Comfort of Strangers and Black Dogs, both shortlisted for the Booker Prize, Amsterdam, winner of the Booker Prize, and The Child in Time, winner of the Whitbread Award, as well as the story collections First Love, Last Rites, winner of the Somerset Maugham Award, and In Between the Sheets. He has also written screenplays, plays, television scripts, a children's book, and the libretto for an oratorio. He lives in London.
Praise For…
---
"The engrossing new novel by the winner of the 1998 Booker Prize "hauls a defining part of the British literary tradition up to and into the 21st century." –Geoff Dyer, The Guardian

"It is rare for a critic to feel justified in using the word "masterpiece," but Ian McEwan's new book really deserves to be called one...Atonement is a work of astonishing depth and humanity... This novel really is worthy of the Booker." –The Economist

"The narrative, as always with McEwan, smoulders with slow-burning menace. the book is magically readable and never has McEwan shown himself to be more in sympathy with the vulnerability of the human heart." –The Sunday Times

"McEwan is a consistently entertaining storyteller, giving good weight right up until the final page. Even by his exacting standards his latest novel is extraordinary. His trademark sentences of sustained eloquence and delicacy, which have sometimes over-rationalized the evocation of emotion, strike a deeper resonance in Atonement." –The Times