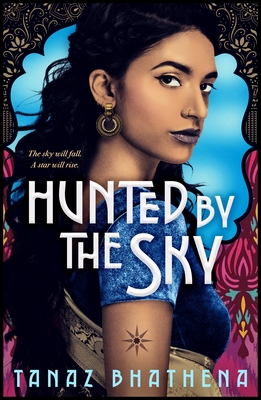 $20.89
Out of Stock Indefinitely
Other Books in Series
This is book number 1 in the The Wrath of Ambar series.
Description
---
Exploring identity, class struggles, and high-stakes romance, Tanaz Bhathena's Hunted by the Sky is a gripping adventure set in a world inspired by medieval India.

Gul has spent her life running. She has a star-shaped birthmark on her arm, and in the kingdom of Ambar, girls with such birthmarks have been disappearing for years. Gul's mark is what caused her parents' murder at the hand of King Lohar's ruthless soldiers and forced her into hiding to protect her own life. So when a group of rebel women called the Sisters of the Golden Lotus rescue her, take her in, and train her in warrior magic, Gul wants only one thing: revenge.

Cavas lives in the tenements, and he's just about ready to sign his life over to the king's army. His father is terminally ill, and Cavas will do anything to save him. But sparks fly when he meets a mysterious girl—Gul—in the capital's bazaar, and as the chemistry between them undeniably grows, he becomes entangled in a mission of vengeance—and discovers a magic he never expected to find.

Dangerous circumstances have brought Gul and Cavas together at the king's domain in Ambar Fort...a world with secrets deadlier than their own.
About the Author
---
Tanaz Bhathena writes award winning books for young adults. Hunted by the Sky won the Ontario Library Association's White Pine Award and is the first of a YA fantasy duology set in a world inspired by medieval India. The Beauty of the Moment won the Nautilus Gold Award for Young Adult Fiction. Her acclaimed debut, A Girl Like That, was named a Best Book of the Year by numerous outlets including The Globe and Mail, Seventeen, and The Times of India. Tanaz lives in Mississauga, Ontario, with her family.
Praise For…
---
"A breath of fresh air in the fantasy adventure genre. . . Readers will be mesmerized by Bhathena's vivid storytelling and the deeply felt connection between the two main characters. This fantasy adventure featuring protagonists of color will be enjoyed by fans of the Legacy of Orisha and Ember in the Ashes series." —School Library Journal, starred review

"A novel of palace intrigue, supplication and resistance, romance, and betrayal. Bhathena takes her time unfolding the story, allowing the reader full immersion not only in the richly drawn characters but in the world itself--a world inspired by medieval India. The result is an intoxicating novel that is at once leisurely and keenly enthralling." —Quill & Quire, starred review

"This stunning novel is the first in a new fantasy duology set in a world inspired by medieval India, where girls and women not only have magical powers, but also have deep political ambition. Protagonist Gul has a single star-shaped birthmark above her right elbow because of a prophecy, hundreds of girls with such marks have been taken or killed — Gul is a target of the king who brutally murdered her parents. Cavas is resigned to join the king's army to save his ill father, until he meets Gul and becomes entangled in her mission of vengeance. Hunted by the Sky is lush and vividly imagined, suspenseful, romantic, and adventurous." —Teen Vogue

"An amazing debut with badass females, Indian and Persian mythology, beautiful writing, and so much diversity." —The Nerd Daily

"A stunning fantasy world." —TOR.com

"While Bhathena may have previously been known for contemporary YA, her fantasy debut is already making waves and is one to watch out for come this summer." —Den of Geek

"While Hunted by the Sky falls squarely into the genre of young adult fiction, it's really for anyone who's willing to let their imagination run free and immerse themselves in a world that is both familiar yet strange." —Fezana

"A fast-paced romantic fantasy set in a thoughtfully built, diverse world." —Kirkus Reviews

"Bhathena explores class struggles and the marginalization of social groups in a fully immersive setting inspired by medieval India. . .The plot quickly unfolds as we alternate between the distinct voices of Gul and Cavas, whose engaging dynamic promises further development in a sure-to-be gripping sequel." —Booklist

"This Indian- and Persian-inspired duology opener from Bhathena explores questions of faith via a fully fleshed, predominantly brown-skinned cast and a thoughtfully conceived mythology. Gul and Cavas's burgeoning attraction adds hints of romance, and . . . escalating action catapults the tale to a thrilling close." —Publishers Weekly

"An epic adventure you don't want to miss." —Tasha Suri, author of Empire of Sand

"This book not only left me breathless, it made my heart soar." —Kristen Ciccarelli, internationally bestselling author of The Last Namsara

"A fresh and intelligent fantasy." —Megan Bannen, author of The Bird and the Blade

"A story exquisitely told, with magic on every page." —Ausma Zehanat Khan, author of The Bloodprint

"A thrilling start to an exciting new series set in a fresh, magical new world... I couldn't put it down!" —S. A. Chakraborty, author of The City of Brass and The Kingdom of Copper

"Captivating...a breathtaking adventure of a book that draws you in from page one." —Sukanya Venkatraghavan, editor of Magical Women and author of Dark Things

"Perfect for fans of thoughtful world-building and fantastical mirrors to our own reality. A whirlwind of heartfelt storytelling." —Jodi Meadows, New York Times–bestselling author of My Plain Jane and the Fallen Isles Trilogy

"Deliciously fresh, while giving us everything we love: a richly-imagined landscape, fascinating magic, and a tenacious young heroine pitted against impossible odds." —Elly Blake, NYT bestselling author of the Frostblood saga

"A dazzling, rich story with a complex heroine, intricate magic, and bone-sharp prose, Hunted by the Sky is the fantasy novel I've been waiting for all year." —Swati Teerdhala, author of the Tiger At Midnight Series