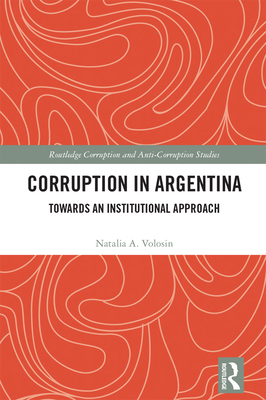 Description
---
The book provides an institutional, historical, and sectorial analysis of Argentina's structural corruption. Looking back over the last 200 years, the book demonstrates that Argentina has historically addressed corruption through ineffective debates between public-private biases or a cultural-criminal approach reinforced by modernization theory, neither of which have helped tackle the problem. Instead, Volosin proposes meaningful institutional reforms to reduce opportunities for corruption and to increase monitoring incentives and capabilities.
The book argues that political economy hindrances for reform are as significant as reform itself and shows that in times of crisis or scandal, the need to move quickly to satisfy citizen demands forces politicians to promote unplanned changes that lack real teeth. Moreover, the machine's reach over most public and private actors precludes regime-undermining reform, which is precisely what is needed to meaningfully attack entrenched structural corruption. In order to combat serious deficits in the public procurement regime, Volosin recommends a micro-sectorial analysis of government procurement, supported by an innovative human rights strategy to help measure and disclose corruption's hidden social cost, raise awareness, integrate vulnerability criteria into the fight against corruption, and employ local, regional, and international litigation and monitoring tools to compel the political branches to perform structural change.
This innovative exploration into corruption in Argentina will be of interest to researchers working on public policy, administrative law, anticorruption studies, law and development, and governance both in Argentina, and beyond.
About the Author
---
Natalia A. Volosin completed her PhD at Yale Law School, USA, and is now Senior Law Clerk in the National Attorney General's Office, Argentina