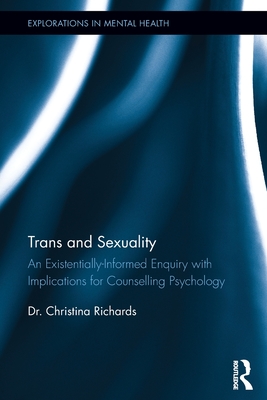 Description
---
Grounded in cutting-edge qualitative research, Trans and Sexuality explores the sexuality of people who do not identify with the gender that they were assigned at birth. Arguing that whilst splitting members of the trans community into distinct groups might seem like a reasonable theoretical procedure, the pervasive assumption that group membership impacts on the sexuality of trans people has unduly biased opinions in this highly contested, yet dramatically under-researched area. Moreover, whilst existing literature has taken a purely positivistic standpoint, or relies on methodology that could be seen as exploitative towards trans people, Richards is careful to place the real-life experiences of trans research participants at the heart of the work.
Showing that sexuality extends beyond the bedroom, this forward-thinking book touches on topics such as identity, sexuality and the intersections between the two. Richards takes a cross-disciplinary approach and considers the sexuality of trans people within the contexts of psychiatric and psychological settings, including Gender Identity Clinics, as well as in the broader contexts of cultural and community settings. The implications of the research at hand are also explored with respect to counselling psychology and existentialist philosophy.
Trans and Sexuality will appeal to academics, researchers and postgraduate students in the fields of gender and sexuality, counselling, sociology, psychotherapy, psychology and psychiatry. It will be of particular interest to those seeking an in-depth and up-to-date overview of ethics and methodologies with people from marginalised sexualities and genders.
About the Author
---
Dr Christina Richards is an Accredited Psychotherapist with the British Association for Counselling and Psychotherapy (BACP) and an Associate Fellow of the British Psychological Society (BPS). She is also Senior Specialist Psychology Associate at the Nottinghamshire Healthcare NHS Trust Gender Clinic, and Clinical Research Fellow at the West London Mental Health NHS Trust Gender Clinic, UK.