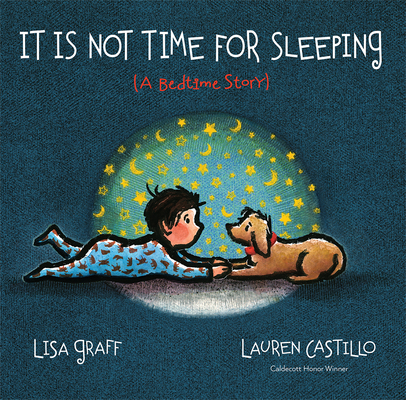 List Price: $10.99
Our Price: $9.99
(Save: $1.00 9%)
Description
---
A charming bedtime story about a child with very specific ideas on the appropriate time for sleeping, now available in a soft padded board book edition.
As the day comes to an end, bedtime draws near. But the little boy in this book is quite sure it is not time for sleeping.
As each piece of his evening routine is completed—helping with the dishes, playing with the dog, getting into pajamas, brushing teeth with Dad, being tucked in by Mom, and listening to a story—he becomes a little more certain: it is definitely not time for sleeping. The question is, when will it be time for sleeping?
A rhythmic, cumulative text and lush twilit scenes come together to create a perfect bedtime book that will be treasured for generations to come.
About the Author
---
Lisa Graff
is the author of several middle-grade novels, including 
A Tangle of Knots,
 which was long-listed for the National Book Award. Her first picture book was 
It Is Not Time for Sleeping,
 illustrated by Caldecott-Honor recipient Lauren Castillo, and her two forthcoming picture books are 
Wonderful You, 
illustrated by Ramona Kaulitzki, and 
Mr. Walker Steps Out,
 illustrated by Christophe Jacques. She lives with her family in Pennsylvania. www.lisagraff.com, Twitter: @lisagraff
Lauren Castillo has illustrated many picture books and has also written and illustrated several, including the Caldecott Honor book Nana in the City. She lives in Harrisburg, PA, and you can also find her at www.laurencastillo.blogspot.com and follow her on Twitter @studiocastillo.
Praise For…
---
Huffington Post Best Picture Books of 2016 "Lisa Graff's gentle, cumulative phrases and the ever-deeper hues of Ms. Castillo's star-spangled pictures make this an excellent choice for lulling little ones." —Wall Street Journal * "Castillo (Nana in the City) conjures security with her trademark warm colors and solid black contours... Graff (Lost in the Sun) rebalances the traditional bedtime dynamic ever so slightly, portraying parents who never need to resort to authority, instead letting the reliable routines of day's end work their magic." —Publishers Weekly, starred review "Castillo's evocative illustrations are warm and comforting and set exactly the right tone. Best known for her middle grade novels, Graff proves that she can deliver the goods to picture book audiences." —School Library Journal "Graff and Castillo beautifully capture the customary rituals (and challenges) of bedtime." —Booklist "The pictures look downright magical at book's end when luminous wallpaper—a rich blue with golden stars and crescent moons—fills up the background of cozy closing images, creating interior starry splendor. A very good goodnight book." —Kirkus "The way the parents continue to carry out the nighttime rituals all the way through to a final hug and a "we love you" is respectful of the child's independence, while encouraging kids at home to settle in and allow themselves to fall asleep, too." —Horn Book Praise for Nana in the City *A 2015 Caldecott Honor Book* Huffington Post Best Picture Book about Family An NYPL 100 Books for Reading and Sharing A 100 Scope Notes Top 20 Book of 2014 * "[Nana in the City] deserves a place on the shelf of classic New York City picture books." —Publishers Weekly, starred review "Castillo's soft, warmly colored art expresses the child's changing feelings about the city while also depicting the characters' close bond." —Kirkus   "A fine example of how firsthand experience can overcome initial fear." —School Library Journal "A rewarding picture book with a vibrant setting." —Booklist "The accessible story arc outlines worthwhile messages about openness to new experiences and changing one's persepctive, all couched in the security of spending time with a loved one." —Horn Book Magazine —